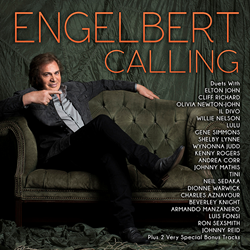 New York, NY (PRWEB) October 03, 2014
Legendary music artist Engelbert Humperdinck will be celebrating the release of his 80th album and first ever duets album, "Engelbert Calling" with a special in-store performance on October 8th at the Barnes & Noble store on the Upper East Side of Manhattan (150 East 86th Street, New York, NY).
"Engelbert Calling" comes as a celebration of Engelbert Humperdinck's remarkable career which has spanned nearly five decades. After selling more than 150 million albums worldwide, Engelbert has well earned his reputation as an international pop legend, and has established himself as one of the world's most enduring popular artists. His new album features duets with a choice selection of the world's most recognized names in music including Elton John, Willie Nelson, Olivia Newton-John, Gene Simmons, and many more.
This historical in-store performance and meeting with Engelbert Humperdinck at Barnes & Noble will start at 7pm with doors opening sharply at 6:30pm. A wristband is required to attend the event, which guests will receive with the purchase of one "Engelbert Calling" CD. Guests will be able to receive a maximum of two wristbands per person with the purchase of two or more CDs. There will be a limited number of 120 seats available and overflow will be able to watch from a screen outside of the event. Barnes & Noble is expecting a very large crowd so make sure you arrive early to ensure that you receive a wristband.
More information for the event can be found at: http://store-locator.barnesandnoble.com/event/84770.
Event address:
Barnes & Noble
150 East 86th Street,
New York, NY 10028
Telephone: (212) 369-2180
"Engelbert Calling" was released September 30th, 2014 by OK!Good Records and is available now at all major music retailers nationwide.
Tracklisting:
CD 1
01. Something About The Way You Look Tonight with Elton John
02. Since I Lost My Baby with Cliff Richard
03. Never Never Never with Olivia Newton-John
04. Spanish Eyes with Il Divo
05. Make You Feel My Love with Willie Nelson
06. I Need You Now with Lulu
07. Spinning Wheel with Gene Simmons
08. Real Love with Shelby Lynne
09. You've Really Got A Hold On Me with Johnny Reid
10. Release Me with Wynonna Judd
11. She Believes In Me with Kenny Rogers
12. Better with Louise Dorsey
CD 2
01. Ain't That Peculiar with Andrea Corr
02. A Certain Smile with Johnny Mathis
03. Kiss Me Honey with Tini
04. The Hungry Years with Neil Sedaka
05. It Matters To Me with Dionne Warwick
06. She with Charles Aznavour
07. After The Lovin' with Beverley Knight
08. It's Impossible / Somos Novios with Armando Manzanero
09. Quien Te Dijo Eso with Luis Fonsi
10. Something To Hold On To with Ron Sexsmith
11. Father And Son with Bradley Dorsey
About OK!Good Records:
OK!Good Records is a genre independent record label established in 2010 to distribute, market, and promote artists and music that defy boundaries, reject limitations, and transcend the ordinary. They champion and celebrate independent music, thought, art, expression, and enterprise. http://www.okgoodrecords.com