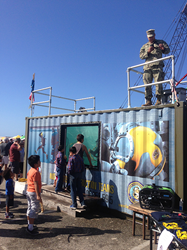 While food, music, and games obviously are a big draw, the festival really is about The Port and the community coming together and getting to know each other better
Port of Hueneme - California (PRWEB) October 03, 2014
On September 27th, over 12,000 guests enjoyed themselves at The Port of Hueneme's Banana Festival, a yearly event that helps develop a better understanding and strengthen the bonds between the community and The Port.
The record crowd soaked up plenty of sunshine, exploring The Port and Naval Base Ventura County with an emphasis on fun and excitement. Among the activities delighting visitors were the Port Pavilion, as well as water and landside tours that revealed the inner workings of The Port in a thrilling new way.
Guests kept their energy up by indulging in the event's diversity of foods. Tempting treats included authentic tacos, BBQ taste sensations, smoothies, funnel cakes, and, of course, tasty banana desserts. Residents received free bananas and pineapples from Chiquita and Del Monte, which added even more 'nutritious and delicious' to their experience. Kids enjoyed another kind of treat; they got themselves royally splashed and played tic-tac-toe with the Seabees swimming in the event's hit attraction - the dive tank.
Port President and Commissioner Mary Anne Rooney noted, "While food, music, and games obviously are a big draw, the festival really is about The Port and the community coming together and getting to know each other better. The event gives us a great opportunity to meet the residents of Port Hueneme and surrounding communities such as Oxnard. They, in turn, become better acquainted with us through the many tours, exhibits, shows, educational displays, and a fascinating Port pavilion. Ultimately, these learning experiences enable visitors to see how The Port and local residents are mutually beneficial to the community's economic well-being."
"With this being the 3rd season of our annual community event we added a new and fun twist - the dunk tank," said Kristin Decas, Port CEO. "This attraction raised $568, which will be donated to the Make-A-Wish Foundation."
General Manager of Del Monte, Chuck Caulkins, Commissioner Jason Hodge, and Ms. Decas were just a few of the many participants who took the plunge, which was presented by Stevedore Company, Ports America. The festival also addressed community members who may be in special need by making the American Red Cross blood drive an integral part of the event.
"All in all, the festival was a resounding success," said Ms. Decas. "I want to thank all of our sponsors and other supporters. Every one of you brought an authentic experience to the event and generously shared what you do to touch the community in an impactful way."
The Port of Hueneme wishes to extend its sincere thanks to all of the event sponsors: Del Monte Fresh, Haas Automation, Southern California Gas Company, The City of Port Hueneme, Chiquita Fresh, The Ventura County Star, CMHS Centers for Family Health, E2 Manage Tech, P2S, Hooks Landing Sport Fishing and Lineage Logistics. Other sponsors included, B95.1 Radio, ParentClick, Ports America, Yara, Brusco Tug & Barge, Wallenium Wilhelmsen Logistics, Channel Islands Logistics, T&T Truck & Crane, Navy Federal Credit Union, Verengo Solar, Holiday Inn Express, Charter College, Macaroni Kid, TracTide Marine, Ventura County Credit Union, Shock Top, Pepsi and Vertical Heaven.
About the Port of Hueneme
The Port of Hueneme is one of the most productive and efficient commercial trade gateways for niche cargo on the West Coast. The Port is governed by 5 locally elected Port Commissioners. The Port moves $8 billion in goods each year and consistently ranks among the top ten U.S. ports for automobiles and fresh produce. Port operations support the community by bringing $1.1 billion in economic activity and creating 10,226 trade-related jobs. Trade through the Port of Hueneme generates more than $69 million in annual state and local taxes which funds vital community services.