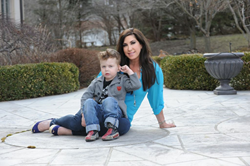 Detroit, Mich (PRWEB) October 03, 2014
ROXO announced today they will be featuring Disney's FROZEN, Marvel's SPIDERMAN, THE AVENGERS and HELLO KITTY as their Holiday/Christmas Box Sets, among other sets including Guardians of the Galaxy. They will donate 11% of their retail and internet sales of these holiday sets to GENERATION RESCUE, an organization that brings hope, information and immediate treatment assistance to those affected by Autism.
REAL HOUSEWIVES OF NEW JERSEY Star Jacqueline Laurita will serve as the ROXO celebrity spokesperson for this holiday initiative, Founder of ROXO Greg Ramfos announced today. Ramfos said "We are thrilled to have Jacqueline as our spokesperson for this holiday season." ROXO will donate a total of 11% of retail and internet sales from their holiday gift sets starting October 10 thru December 24 to Generation Rescue.
Laurita will do multiple media interviews on TV, radio and print to bring awareness to Autism through Generation Rescue. The ROXO holiday gift sets are available at Kohl's, other national retailers and online at http://www.getroxo.com.
Laurita said, "Whenever I find something cool for my kids, I have to share it with others. This holiday season I found ROXO's trendy Holiday Gift Box set (for boys & girls). It features three colorful silicone Disney's Frozen interchangeable charm bands in a DIY kit, including detachable chrome charms of their favorite Frozen characters. They can mix & match band colors and charms or trade with friends! This makes it fun for all kids. The charms easily snap on and off so they can customize their own bands. What kid doesn't get excited about Frozen right now? It's the perfect stocking stuffer; use in holiday gift bags; or as a gift for them and their friends."
Jacqueline also stated "For my 5-year-old son, Nicholas (who has Autism), I bury the charms in his Theraputty for him to pick out, which helps him with his fine motor skills. What I love about this company is that they are donating 11% of the sales to one of my favorite Autism Charities 'Generation Rescue.' They help families with financial need to get the support they need for medical treatments and therapies for their child, among other things. It's an easy and amazing way to give back where everybody wins!"
FROZEN GIFT BOX SET DESCRIPTION FOR THE HOLIDAYS/CHRISTMAS
The highest grossing animated film of all time has captured the hearts of children and adults all over the world, and now you can literally wear your Frozen heart on your sleeve with the ROXO Frozen Gift Set. The ROXO Frozen Gift Set features three ROXO interchangeable charm bands with your Frozen favorites. Princess Anna, Princess Elsa, Kristoff, the lovable snowman Olaf and goofy reindeer Sven are displayed in high-res photos encased in our silver finished charms. ROXO interchangeable charm bands allows the wearer to pop photo quality charms on and off soft, colorful silicone bands; perfect for swapping the characters with friends, matching the bracelet to an outfit and customizing the band for a unique and individual look. Let it go and be true to yourself by making your ROXO band your own. No matter if it's winter or summer, your Disney Frozen band will always be in style http://www.getroxo.com/frozencatalog
ROXO has become one of the American Cinderella stories of the year, former Automobile Executive Greg Ramfos created ROXO and established it in 2010. ROXO, LLC is a family-owned business. With the goal of creating an affordable, customizable accessory for kids in which they could show off their individuality, ROXO developed their patented interchangeable charm band. They carry officially-licensed lines with iconic brands like Disney, Pixar, Marvel Comics and their extending properties, Cartoon Network, Nickelodeon, the NBA, NHL and a number of NCAA teams. To learn more about ROXO, visit http://www.getroxo.com
ROXO has exploded in the market place this year and is now in most major retail stores nationwide. In 2014 they are doing in sales monthly, what they were doing yearly last year. This is a true American made American done right company that once again proves that the American Spirit is still very much alive when it comes to companies based in the U.S.A.
ROXO's soft, colorful silicone bands come in a wide variety of awesome colors and feature detachable chrome charms showcasing characters from iconic brands. ROXO allows the wearer to snap the charms on and off the band, making it 100% customizable. Mix and match charms, swap out band colors and share with friends for a completely unique look. ROXO charm bands also have a one-of-a-kind Custom Charm Creator on http://www.getroxo.com where people can upload photos of their friends, families, pets, company logo – anything at all – to create a band that is truly unique and represents the person wearing it! Build up the band with charms and actually wear your heart on your sleeve.
ABOUT GENERATION RESCUE
Generation Rescue is the leading national organization that provides hope, information and immediate treatment assistance to families affected by autism spectrum disorders. We are usually the first resource families turn to when facing a diagnosis.

Generation Rescue educates, supports, advocates and truly empowers families affected by autism to achieve a better quality of life today and encourages healthy choices for future generations.
Generation Rescue currently helps more than 25,000 families affected by autism spectrum disorders – offering programs nationwide that provide services on a local level and providing mentors in 39 countries around the world.
ABOUT AUTISM

Autism impacts 1 in 17 households and is the fastest growing developmental disorder in the country.
The impact and implications of autism can be scary and hard hitting for families. For example, 92 percent of families have reported that their child is in danger of wandering from home, and 80 percent of marriages that have autism in the home end in divorce.

The annual cost of autism is $35 billion – a figure expected to significantly increase over the next decade.