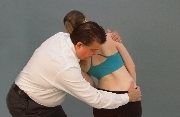 "This eclectic approach results in the most effective treatment"
Astoria, New York (PRWEB) October 04, 2014
Low back pain can prevent an individual from enjoying and participating in life. The pain can be so intense that it stops the person from going to work, from sleeping or just coping with the demands of living.
Prescription pain relievers can sometimes mask the problem for a while, but do not lead to a cure. What is needed is a comprehensive approach to the evaluation, diagnosis and treatment of that pain.
To this end, Hands-On Seminars is pleased to offer: A Comprehensive Manual Therapy Approach for Lumbar Spine Pathology (PT03).
This 2-day advanced training is designed to have immediate clinical applications, and is dedicated to those health care professionals who want to learn a comprehensive Manual Therapy approach to lumbar spine pathology.
Instead of prescribing to a single, isolated manual therapy school of thought, Hands-On Seminars teaches a Comprehensive Integrative Manual Therapy approach to Lumbar Spine Pathology. This evidence-based program integrates the 47 years of clinical experience of Hands-On Seminars founders Dimitrios Kostopoulos, PT, PhD, DSc, MCMT and Konstantine Rizopoulos, PT, FABS, MCMT with some of the teachings of leading manual therapy experts such as:
· Janet Travell, MD
· David Simons, MD
· Geoffrey Maitland, PT
· David Butler, PT
· Leon Chaitow, DO
· Dr. Lawrence Jones
· Freddy Kaltenborn, PT
· Stanley V. Paris Ph.D., P.T.
· Robin McKenzie, PT
· Vladimir Janda, MD
· Karel Lewit, MD, & others.
This eclectic approach results in selecting the most effective, efficient, evidence-based Manual Therapy techniques for the specific pathology.
On October 18 – October 19, 2014 health care providers in and around Astoria, New York will have the opportunity to attend a 2-day advanced, comprehensive training course in Manual Therapy for Lumbar Spine Pathology. This seminar teaches the most successful approaches for the evaluation and treatment of mechanically induced lower back pain.
This course will be taught by HOS Instructor Frederic (Rick) Schwartz. Rick has a BS in Physical Therapy from SUNY at Buffalo & graduated in 1972. He has an MBA in hospital & healthcare administration from Adelphi University. Over his 37 year career as a PT Rick has had varied work experiences, including NYU Rusk Institute, Memorial Sloan Kettering Cancer Center, nursing homes, home care, New York Institute of Technology/ New York College of Osteopathic Medicine sports medicine clinic, and is a certified instructor with Hands on Seminars.
Rick has taken numerous manual therapy classes including some of those offered by Stanley Paris, Mulligan, McConnell taping courses, Barnes, Welfish-Giamateo and Grodin. He likes to share his experiences and "pearls of wisdom" during his Hands on Seminar Courses.
Course will be held in:
Astoria, New York
October 18th and 19th 2014
CEUs: 16.8
The material covered in the seminar is appropriate for PTs, PTAs, OTs, OTAs, LMTs, ATCs and Physicians. On completion of this course participants will receive 16.8 CEUs.
Hands-On Seminars, Inc. (HOS) is the leading international continuing education organization in the world, awarded the Lecture & Seminars Award as the best Lecture and Seminar Company from the Lectures and Seminars Bureau over the past two years. Their purpose is to provide the best quality Manual Therapy seminars at an affordable cost. For further information, please contact: Alexandra Rosner at 888-767-5003 or info(at)handsonseminars(dot)com
###