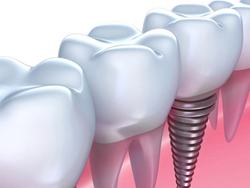 San Diego, CA (PRWEB) October 06, 2014
The Center for Beautiful Smiles has been established in San Diego and the South Bay area since 1988. For decades, the practice has provided dental treatments in an affordable manner to those in need. The latest addition to the office's list of affordable treatments are dental implants and crowns. To meet a growing demand for dental implants and implant restorations, Dr. Pham is offering dental implants and crowns for $1,699. Dr. Pham at the Center for Beautiful Smiles, will work with a dental implant manufacturer that offers excellent pricing on durable, effective, and long-lasting dental implants and crowns.
When patients lose a tooth or teeth, dental implants are one of the most recommended treatments to restore them. They are essential in situations when grinding down the teeth to make bridges are not so favorable anymore or having a bridge in the front teeth does not look natural at all. Dental implants can also be provided to secure dentures and make them permanent. No more loose dentures or embarrassing moments of loose dentures moving around the mouth while talking or eating. The promotional offer on dental implants and crowns from the Center for Beautiful Smiles provides an excellent alternative for patients who have been accustomed to traveling across the southern border for low-cost dental care and no guarantee of the quality of the treatment.
Dr. D. Young Pham is the owner of The Center for Beautiful Smiles and holds an extensive background in the dental field. He has graduated with cum laude honors with a bachelor degree in Biology from Central Washington University and earned his D.D.S. from Indiana University School of Dentistry. After obtaining his D.D.S., he completed his Advanced Education in General Dentistry (A.E.G.D.) residency program at the Naval Dental Center in Parris Island, South Carolina.
As one of the premier locations for dental care in Chula Vista, the Center for Beautiful Smiles is a dental office where patients can come to have their missing teeth be replaced with natural looking dental implants and crowns, or implant over dentures for some cases. During the first consultation, the patients will be evaluated to ensure their jaw bone can accept dental implants or bone graft and membrane, this is needed before their dental implants can be placed. If a patient's jaw bone has enough bone width and depth, an implant or implants which consist of titanium post or posts are being inserted into the upper or lower jaw depending on where the missing tooth or teeth are. An abutment is then connected to an implant fixture after months of healing and the implant crown can be cemented to the abutment. Implant and implant crowns give patients the most natural feeling and look of their natural teeth. Today's dental technology allows patients to restore optimal, confident, and healthy smiles.
For additional information about the dental implant procedures and how they can replace missing tooth or teeth, please visit the practice's website at http://www.centerforbeautifulsmiles.com or call the office number at (619) 500-8212. The Center for Beautiful Smiles is available to answer any questions about dental implants and crowns. Patients are treated comprehensively one smile at a time.