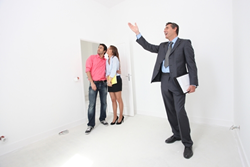 August's figure marked the second-highest reading since the same month a year ago.
Chicago, IL (PRWEB) October 03, 2014
The Federal Savings Bank read with interest the latest Pending Home Sales release from September 29th by the National Association of Realtors (NAR). Lawrence Yun, chief economist for the NAR, once again pointed to a drop in investor activity as the cause of declining home sales. His statement was in response to the latest Pending Home Sales Index, which is an index that indicates future sales based on contract signings.
"Fewer distressed homes at bargain prices and the acknowledgement we're entering a rising interest rate environment likely caused hesitation among investors last month," he said. "With investors pulling back, the market is shifting more towards traditional and first-time buyers who rely on mortgages to purchase a home."
Between July and August, the index dropped 1 percent, falling from 105.8 points to 104.7 points. Compared to August 2013, there was a 2.2 percent decline from 107.1 points. However, the declines don't necessarily indicate weak home buying activity, as the index is still above 100 points, which is the benchmark for average contract activity. Additionally, August's figure marked the second-highest reading since the same month a year ago.
Are first-time home buyers ready to step in?
Yun said the current home sales market is tilting toward mortgage-dependent buyers. One caveat is there are still the lending standards to contend with, as reported by Bloomberg Businessweek on September 29th. Yet, not all potential homeowners are deterred by these obstacles.
Citing data from the Commerce Department, the source said consumer spending went up in August. This rise was attributed to improvements in the employment sector. Additionally, the data indicated a 0.3 percent gain for incomes. While small, slight growth for wages is better than the stagnation that has characterized incomes for some time.
Contact the Federal Savings Bank, a veteran owned bank, for information about first-time home buyer programs that can help you purchase a house while investors are less active in the housing market.