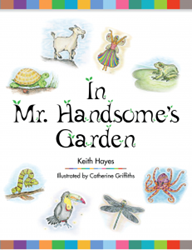 This new children's book shares stories Mr. Handsome tells, featuring themes of fun, friendship and kindness.
WOOD-RIDGE, N.J. (PRWEB) October 03, 2014
Eighty-five-year-old Mr. Handsome sees many wonderful things in his garden and much further afield. This new children's book shares stories Mr. Handsome tells, featuring themes of fun, friendship and kindness. The collection provides gentle lessons about hopes and dreams and doing one's best.
"In Mr. Handsome's Garden" features stories that range from a turtle thoughtfully sheltering a resting ladybug to a fanciful story based on a London subway station called Elephant & Castle. Insects, children and animals star in the book, from the lowliest worm to the exotic antelope and gigantic humpback whales seen in Wales.
Author Keith Hayes deftly weaves observations about life into the tales, such as the remarkable journey taken by a maple leaf falling to the ground or the ephemeral beauty of life seen briefly in a hummingbird, inchworm and dragonfly. Colored pencil illustrations by Catherine Griffiths enhance this chapter book, and a detailed glossary defines terms in the book printed in colored ink. Although older children can read the short stories silently, Hayes wrote them to be read aloud, sparking young people's imagination.
This is the first published book for Keith Hayes, a New Jersey native with a master's degree in English from Fordham University. He spent 20 years in public relations and corporate communications. Hayes has lived in Toronto and North Carolina and returned to New York City in 2014 to teach and pursue creative writing. Illustrator Catherine Griffiths, who has a doctorate in Canadian literature, collaborated on the stories as well.
For additional information, please visit http://www.thehandsomegarden.net.
In Mr. Handsome's Garden
Keith Hayes
Dog Ear Publishing
ISBN: 978-1-4575-3096-9
50 pages
$13.95 US
Available at Ingram, Amazon.com, Barnes & Noble and other online retailers.
About Dog Ear Publishing, LLC
Dog Ear Publishing offers completely customized self-publishing services for independent authors. We provide cost-effective, fast, and highly profitable services to publish and distribute independently published books. Our book publishing and distribution services reach worldwide. Dog Ear authors retain all rights and complete creative control throughout the entire self-publishing process. Self-publishing services are available globally at http://www.dogearpublishing.net and from our offices in Indianapolis.
Dog Ear Publishing – self-publishing that actually makes sense.