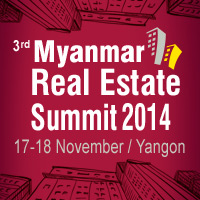 3rd Myanmar Real Estate Summit is a major platform for business engagement for all those eyeing the huge real estate business in Myanmar's emerging economy.
Yangon, Myanmar (PRWEB) October 07, 2014
3rd Myanmar Real Estate Summit, a timely platform for those eyeing the huge real estate business in Myanmar's emerging economy, is set to open on 17 November with a keynote speech by His Excellency U Kyaw Lwin, Union Minister of Construction. Next a paper on 'Yangon's Transforming Development Landscape: From Investment to Execution of Real Estate Projects' will be delivered by Gareth Wong Wei Han, Dy General Manager (Myanmar), Surbana International Consultants Pte Ltd. A review of 'Urban Services Planning covering Water Supply, Sewerage and Drainage Management – The Direction for Myanmar' will be addressed by Dr. Than Than Thwe, Deputy Director of Urban & Regional Planning Div, Dept of Human Settlement & Housing Development (DHSHD), Ministry of Construction.
The retail landscape will also be explored at length via sessions on 'Retail-anchored Mixed-use Projects in Myanmar: How to Get it Right? by Hoa Le, National Head (Retail Services), Cushman & Wakefield and 'Mega-malls & Retail Chains: Negotiating Retail Contract & Pitfalls to Avoid' by Edwin Vanderbruggen, Partner, VDB Loi Myanmar. The agenda will also include an Owners & Retailers Panel on the subject of Why Expand into Myanmar? covering retailer's cost of doing business beyond occupancy costs, having the right retail mix, etc. The discussion will be led by senior managements from ABC Convenience Stores, City Mart Holding and more.
3rd MRES attendees can also look forward to a Panel Discussion on 'Office Market & Transaction in Yangon' chaired by Tony Picon, Managing Director, Colliers International Myanmar and Mark Petrovic, Managing Director, Archetype Myanmar Limited. Another Owners vs. Operators Panel Discussion will explore the question of – What can Branding Offer to Myanmar's Hotel Sector? The panelists include: Bill Barnett, Managing Director, C9 Hotelworks Company Limited; Teddy Chia, Director (Operations), Max Myanmar Group of Companies, Clint Nagata, Founder of BLINK and Akshay Kulkarni, Regional Director - Hospitality, Cushman & Wakefield.
Other key sessions are:

Marga's Experience: A Foreign Investor in the Myanmar Property Market – Dr. Stephen Suen, Chairman, Marga Group
Is there More to Myanmar than Yangon and Mandalay? – Akshay Kulkarni, Regional Director - Hospitality, South & Southeast Asia, Cushman & Wakefield (India) Private Limited
Role of SEZ in Urban Development – Nina Yang, Executive Director, CPG Corporation
Overview of Myanmar's Growing Consumer Market & Trends – Yan James Aung, Research Executive, Nielsen MMRD
Mixed Use Developments: Exploring New Concepts in Design and Planning – Gruffudd Owain, Executive Principal, Aedas Pte Ltd
The summit is expected to draw Property investors & developers; Real estate analysts, Construction & engineering firms; Consultants & brokerage firms; Hoteliers and Retailers; shopping mall operators/ developers; Financiers & lenders; Banks & financial institution; Asset managers & fund managers; Real estate funds, REITs, hedge funds & private equity; Insurance firms; Law firms; Tax consultants and Industry regulators.
View 3rd MRES website for more details or contact Ms. Grace at +65 6346 9147.