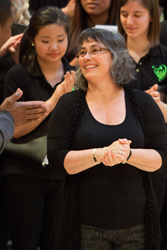 (PRWEB) October 03, 2014
Forest Ridge School of the Sacred Heart will host and sponsor a brand new community choir starting October 15, 2014. This adult choir is open to men and women ages 18 – 110. The choir will be led by Forest Ridge School Director of Music Alison Seaton, and assisted by Richard Lind, pianist.
"Forest Ridge has a long tradition of students singing together as a means of building community and creating lovely music. We're very excited to be able to invite our larger community to share in these experiences of music and friendship," Seaton said.
Rehearsals will be held on Wednesday evenings from 6:30-8:00 p.m. in the Sacred Heart Chapel at the Forest Ridge Campus located at 4800 139th Ave. S.E., Bellevue, WA. Performances for the choir will be determined by the members. From novice to professional, all singers are encouraged to join the mixed voice choir and bring a friend. Explore multiple genres of music and learn what you need to know to make a great sound and have fun.
Ms. Seaton, who holds a DMA, Abd from the University of Washington, began teaching at Forest Ridge in 1997. Her choirs perform widely in the Seattle area, and internationally. She has worked with many respected composers and conductors in the choral community, and particularly values her collaborations with Alice Parker, who is Ms. Seaton's mentor, and Eleanor Daley, Francisco Nunez and Stephen Hatfield.
For information on joining the Somerset Community Chorale, email Alison Seaton at aseaton(at)forestridge(dot)org or call 425-641-0700.