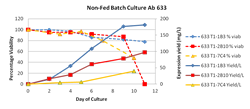 Fusion Antibodies are very happy with the results of the project and look forward to the exciting future of the humanized JF5 antibody as a world class theranostic agent
Belfast, UK (PRWEB UK) 12 October 2014
UK based contract research organisation Fusion Antibodies and UK medical diagnostics company ISCA Diagnostics, are today announcing the successful cell line development of the Aspergillus-specific monoclonal antibody JF5. Fusion Antibodies first humanized the parental antibody before development of the cell line. Fusion Antibodies have achieved a record PCD (picograms per cell per day) of 33.5 in non-fed shake flask cultures which will be capable of producing multiple grams per litre in a bioreactor system.
Paul Kerr, Managing Director at Fusion Antibodies commented: "Fusion Antibodies are very happy with the results of the project and look forward to the exciting future of the humanized JF5 antibody as a world class theranostic agent". Chris Thornton of ISCA Diagnostics added: "The cell line will now enter cGMP production and the humanized antibody assessed for diagnosis and therapy of invasive pulmonary aspergillosis in humans. The production by Fusion Antibodies of a highly sensitive and specific humanised version of the JF5 antibody for ISCA places us at the forefront of the fight against this devastating disease of immunocompromised patients. This ground breaking work opens up highly novel opportunities for early detection and treatment of the disease."
About Fusion Antibodies
Fusion Antibodies; a UK based life science company, with innovative technologies and world-class expert services for antibody drug discovery, are specialists in production of High Quality Humanized Monoclonal Antibodies and Antibody Engineering Projects. With 12+ years of experience in the medical research industry, including two Antibodies in clinical and pre-clinical trials, Fusion Antibodies have extensive experience in accelerating therapeutic drug research towards the clinic.
Fusion Antibodies has the knowledge and expertise to build and deliver a bespoke package of the services you need to achieve outstanding results. They provide Royalty Free Antibody Humanization of Monoclonal Antibodies and using their next generation in silico CDRx™ technology, they have modernized the traditional CDR grafting technique. Fully humanized monoclonal antibodies are an essential step in the progression of therapeutic drugs to the clinic and the in-house expertise at Fusion Antibodies ensures its success.
Visit their website at http://www.fusionantibodies.com to find our more