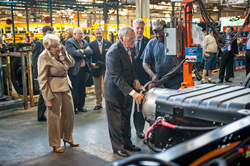 Blue Bird is honored to welcome Governor Deal, the First Lady of the state and the Georgia Department of Corrections.
Fort Valley, GA (PRWEB) October 03, 2014
"Georgians Supporting Georgians" was the theme to Governor Nathan and Sandra Deal's recent visit to Blue Bird. The Georgia-based company has been manufacturing buses, growing the economy and stimulating jobs since its start in 1927. Blue Bird recently completed five new transit buses for the Georgia Department of Corrections (DOC). Built by Georgians and custom-made for a Georgia agency, these buses exemplify the "Georgians Supporting Georgians" spirit.
As one of Central Georgia's largest employers and the second largest automotive manufacturer in Georgia, Blue Bird builds around 10,000 buses each year at its Fort Valley plant and employs over 1,600 people from 46 Georgia counties. Approximately 20 percent of Blue Bird's building materials come from Georgia-based companies. A 2009 economic multiplier study found that for every dollar a Georgia-based customer spends on a Blue Bird bus, that dollar is multiplied four times within the state. Each Blue Bird bus sold to a Georgia customer provides a positive impact to the state Gross Domestic Product by approximately $86,000.
The Governor's visit included a plant tour where he met and talked with employees along the production line. The visit also included an inspection of five new custom-made All American buses strategically engineered for the Georgia Department of Corrections. In 2013, Blue Bird delivered 10 All American buses to the department for inmate transportation. The customized buses feature seating for 50 passengers, including two isolation cells, pass-through luggage compartments and interior storage bins. The buses also feature an on-board lavatory.
"We've worked to provide Blue Bird with the resources necessary to succeed and remain globally competitive and, in turn, the company has been a key driver for economic growth in our state," said Governor Deal. "Our manufacturing sector is booming, and it is because of companies like this one that our state can claim such success. This Georgia-based business employs more than 1,600 citizens statewide and supports other local businesses and charities. I am thankful for its commitment to Georgia citizens, our communities and the economic vitality of our state."
"In the prisoner transportation business, the quality and reliability of our transport buses are paramount," said Brian Owens, commissioner of the Georgia Department of Corrections. "Blue Bird sets the standard in quality and reliability, and we are pleased to do business with a Georgia-based company."
"Blue Bird is honored to welcome Governor Deal, the First Lady of the state and the Georgia Department of Corrections," said Phil Horlock, president and CEO of Blue Bird. "Governor Deal is an outstanding advocate for Blue Bird's continued success within Georgia and we value his support. Today, we are pleased to present custom-engineered buses to Commissioner Brian Owens and the Georgia Department of Corrections and look forward to continued growth within Georgia."
For more information on Blue Bird's complete of buses, contact your local dealer or visit, http://www.blue-bird.com.
Photos available upon request.