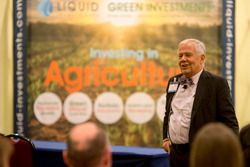 London (PRWEB UK) 5 October 2014
Liquid Investments hosted their annual Plantation Tour and Primal Investing Summit on September 20 – 25 2014, where a selection of business leaders, academics and members of the Liquid team discussed the attractive future for agriculture and Brazil's importance as a breadbasket for the world.
Anthony J. Archer, Founder and Chief Executive of Liquid Investments, launched this year's event and used the opportunity to introduce Liquid's new and distinct 'Primal Investing' market philosophy.
Key Note Speaker and Chief Guest Jim Rogers, one of the most authoritative commentators in the financial media and a long-term specialist in agricultural commodities, delivered a fascinating presentation on the shifting balance of economic power in the world today.
For a summary of the speakers and presentations delivered throughout the Summit, please refer to the round up page on the Liquid Investments website.
Those who attended also had the opportunity to witness how a single raw-material is diversified in itself and its routes to market, on a tour of the Liquid Investments neem plantation and factory.
After a successful Tour and Summit, Liquid Investments have begun the development of a dedicated source for all information relating to the new Primal Investments strategy. Watch this space for further updates.
For further information regarding projects and solutions offered by Liquid Investments, visit their website. If you would like to get in contact with one of the organization's investment consultants, please email or request a callback.
Note to Editors:
Liquid Investments is a provider of global investment solutions allowing institutional and private investors the opportunity to accumulate wealth through safe and secure alternative investments in emerging markets.
Founded in 2006, the organisation is headquartered in Knightsbridge, London and with an office in Fortaleza, Brazil.
For further information:
Jayshree Badham, Chief Marketing Officer – Jayshree.Badhan(at)liquid-investments(dot)com