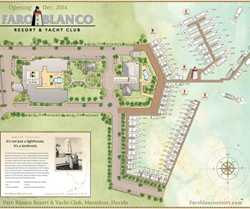 The level of the service that we will be providing our guests will be equal to the best resort and destination marinas. The state-of-the-art marina facility will be the best in the entire Keys.
Marathon, Florida (PRWEB) October 07, 2014
It's not every day that a marina is built in the Florida Keys, a protected national treasure, but this winter boaters will have an exciting new destination where they can dock their boat for a day, week or the season. Boaters will easily find the 74-slip Faro Blanco Resort & Yacht Club because of the iconic lighthouse, for which the resort is named.
Marathon for the first time will join the ranks of yachting destinations. The community is known for its laid-back atmosphere and proximity to family friendly attractions and the nightlife of Key West, located about a 50-minute drive south.
The state-of-the-art Faro Blanco marina will begin accepting vessels on Dec. 16, 2014 when the resort's hotel - a Hyatt Place - is scheduled to begin checking in guests.
Before it officially opens, Barbara DeLollis of The Social Suite sat down with the Faro Blanco Marina & Yacht Club General Manager Alain Giudice, who explained what the marina means to luxury vessel owners who expect the highest quality.
Familiar with the needs of both yacht and superyacht owners, Giudice is an international marina expert who has helped create and manage some of the best marinas in the world.
A native of France, Giudice is a former marina operations director of the Atlantis Resort Paradise Island in Nassau, Bahamas, The El Conquistador Resort in Puerto Rico, and the Boca Raton Resort and Club in Boca Raton, Fla.; he also has overseen the construction of marinas across Asia, the Middle East and Europe for Camper & Nicholsons Marinas.
Q Let's kick things off by talking about consumers. What do today's boaters want in a marina such as Faro Blanco Resort and Yacht Club?
A Today's boaters expect a high level of customer service and amenities where they can enjoy a great hotel and restaurants along with state-of-the-art marina facilities. Other components that a first-class Marina such as ours will offer are safety, privacy, entertainment, activities, crew facilities, parking, concierge service, wireless communications and data network, convenient fuel and pump out services, adequate dockside hookup. It's magical seeing Faro Blanco come to life for this reason. We've designed it around the needs of consumers of today and tomorrow.
Q Will the Faro Blanco marina be completely new?
A Well, yes and no. We're building the marina and resort on the same site as the iconic Faro Blanco resort that had its heyday in the 1970s and 1980s. Hurricane Wilma in 2005 had destroyed the docks, so we're building the marina - as well as the Hyatt Place hotel, waterfront restaurant and other facilities - from scratch. In other words, it's "old" and "new" at the same time. You can feel the sense of anticipation building as we move ahead with construction because we're bringing a landmark that was beloved by so many generations back to life.
Q What is the biggest advantage of building a new marina today?
A Many of the old marinas have to adjust their offerings to accommodate the physical aspect of today's vessels. We have the advantage of designing specifically for the modern vessel and boater. The majority of existing marinas were designed in the 1950s and 1960s, when the boats were smaller. Even 10 years ago, boats were much smaller and were not as wide as they are today.
Q How different will the Faro Blanco marina and its facilities be compared to the former version?
A It's like night and day! In the old days, you had a ship store and you sold ice. But today, marinas are now becoming destination resorts. This is what our emphasis is with Faro Blanco. The level of the service that we will be providing our guests will be equal to the best resort and destination marinas. The state-of-the-art marina facility will be the best in the entire Keys.
Q For boaters, having ample electricity and fuel service is key. What services can they expect at Faro Blanco's marina?
A The electricity requirements for boats are more elaborate now than they used to be, so we will provide 30amp, 50amp and 100amp electrical hookup. Additional services such as haul out, land storage and service repairs will be available from Marathon Marina, the nearby boatyard facility.
Q What can people do when they dock at Faro Blanco marina?
A During the day, they can certainly fish and at the same time, watch for dolphins splashing alongside their vessels. Marathon is also popular with scuba divers and it has plenty of family friendly attractions such as the Turtle Hospital and Dolphin Research Center. We also expect our guests will also relax on property, which is why we decided to build two pools - instead of one - at the adjacent Hyatt Place hotel. There's also a fitness center if they want to work out.
Q If guests leave the property, they can reach Key West in less than an hour. But how can they get there?
A Car rental offices are available at the Marathon airport located less than 10 minutes away from Faro Blanco.
Q Do you have a personal favorite place to recommend?
A Coming from Europe, I'm always intrigued by history. So I personally enjoy walking across the original, 100-year-old Seven Mile Bridge, which is just a few minutes away. It has a great story behind it that involves the history of the railway system here.
Q For boaters coming from parts north such as the Florida Panhandle, Faro Blanco could make a convenient stop before heading south. How far is Faro Blanco to the Atlantis resort in the Bahamas, one example of a destination where people might go next?
A Well, as you know, it depends on the type of vessel, speed, draft and sea conditions anything from 10 to 15 hours.
To learn more about Faro Blanco Resort & Yacht Club visit our website http://www.faroblancoresort.com