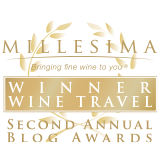 New York, NY (PRWEB) October 06, 2014
Millesima invites US-based bloggers to enter their best work for consideration in this year's competition.

The awards are open to any English-language, US-based wine blog
Eligible blogs are oriented toward a consumer audience, rather than having a trade focus
The blog should be active for at least two years with a number of postings every month
Eligible articles are original work posted by the blogger from September 2013 through September 2014. Video-centric posts are also eligible
Blogs may submit multiple entries
How to Enter
Bloggers can easily enter the competition here. All entries must be received by November 5, 2014.
Prizes
The winner of each category will receive a distinct prize:

A wonderful six -bottle case of Château Troplong Mondot, offering different vintages. Troplong Mondot is one of the most beautiful expressions of Saint-Émilion.
An invitation to the prestigious Burdigala Gala Dinner and Grand Tasting, which celebrates the best of Bordeaux wines in New York City, scheduled for March 13, 2015, and a $1000 travel stipend. Burdigala takes place every two years and gathers prestigious Bordeaux Châteaux around a Gala Dinner and a Grand Tasting dedicated to New York residents and wine lovers. Visit Burdigala's website for more information.
A double-magnum of one of the most renowned wines of Pessac-Leognan, Chateau Olivier 2005, ready to enjoy starting in 2015.
Judging
Finalists will be selected in each category by Millesima's panel of judges. The panel will then select a prizewinner from among the finalists in each category, recognizing exceptional storytelling, educational value, and relevance to the category. The inclusion of strong visual imagery is preferred.
Awards Schedule

Entry period: October 1 - November 5, 2014
Finalists will be announced the week of November 10, 2014
Prize winners and runners up will be announced the week of November 17, 2014, on the millesima-usa.com blog as well as via Facebook and Twitter
Winners must claim their prizes by December 19, 2014
About Millesima USA
Established in 2006, Millesima USA is the American arm of Bordeaux-based Millesima SA, the undisputed leader in online sales of fine wines in Europe. Through e-commerce (millesima-usa.com) and a retail store in New York City, Millesima USA offers a comprehensive selection of fine and rare wines, including the most sought-after French, Italian, and New World brands. Millesima offers the opportunity to buy wine futures (en primeur) and has a very extensive selection of large format bottles. The firm selects its wines for their excellent quality and value and guarantees the highest standards for wine storage, shipment, and customer service.
About Millesima S.A.
Millesima S.A. is one of the top buyers of Bordeaux wines futures and has opened the doors of its 200-year old cellar to Millesima USA. This guarantees American clients access to 125 of Bordeaux's finest wines ranging in formats from half bottles to Imperials. A large selection of vintages are available, every bottle purchased directly from the estates which produced it. The unparalleled access of this collection, paired with MIllesima's knowledge of the world of wine ensures excellent customer satisfaction.
PR Contacts: Diana Tedesco, Fraiche PR
+1-212-463-8930 Diana(at)fraichepr(dot)com
Susannah Gold, Vigneto Communications
+1-917-207-5375 susannah(at)vignetocommunications(dot)com