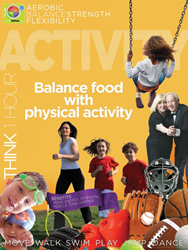 (PRWEB) October 03, 2014
Looking forward to National Walk to School Day on October 8? It doesn't work out for everyone but if parents/guardians can make it work, it's worth giving it a try. Even if that means waking teenagers up a little earlier or if distance is the issue, dropping everyone off closer to school to get them started.
Learning ZoneXpress (LZX) strives to improve the health and vitality of youth by providing creative, relevant, and educational teaching tools about life skills, healthy behaviors and nutrition. Part of that means helping kids have fun and part of that is selling them on the idea that a healthy lifestyle is a worthy goal. With that goal in mind, LZX has come up with some compelling reasons they think will help parents, teens and younger kids want to get stomping for National Walk to School Day.
Reasons to get teens out on National Walk to School Day:
1. It's good exercise! Research shows that just one of four teens get enough exercise.
2. Exercise helps kids think better. Studies indicate that teens who exercise regularly get better grades.
3. Exercise is good for skin. It boosts circulation and the delivery of nutrients to skin.
4. Exercise reduces stress and reduces depression; again
studies bear out this assertion.
5. Teens that choose to walk to school increase the odds of running into other
teens. Finding a walking buddy can help start a good habit!
And a few more reasons to get younger kids out too:
1. It's extra time for a parents to talk to their children and catch up on daily events.
2. Parents get to know the neighborhood in a new way and help direct the route.
3. Gives parents the opportunity to model good behavior; stop for the lights, say hello to neighbors, talk about how to react to strangers.
4. The parent also experiences the top five benefits above.
About Learning ZoneXpress
Learning ZoneXpress, based in Owatonna, MN, is a leading source of award-winning nutrition education tools. The company mission is to help improve health through relevant, creative and affordable learning tools about healthy behaviors and nutrition. Learning ZoneXpress offers a wide variety of educational products including posters, handouts, videos, games and lesson plans. For more information about Learning ZoneXpress, visit http://www.learningzonexpress.com or call 888.455.7003.