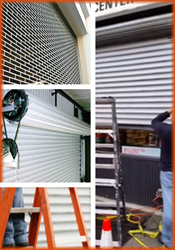 New York, NY (PRWEB) October 06, 2014
Rolling gates in New York City provide protection from break-ins and vandalism, and play an important role in defending a business owner's livelihood in times of social unrest. However, they can develop problems over time that require rolling gate repair in NYC.
Rolling Gates NYC offers the following tips for business owners to ensure their rolling gates remain in perfect working condition over the long term:
Start with a high-quality rolling gate and professional installation.
Regularly check reverse operation for safety.
Regularly clean and oil all moving parts to prevent buildup of dirt, debris and grime.
Do not oil or otherwise handle the motor.
While most business owners can handle basic maintenance, Rolling Gates NYC recommends that they opt for professional assistance with more in-depth needs, such as motor maintenance. Rolling Gates NYC staffs certified, trained technicians with the education, training and experience to handle serious maintenance or rolling gate repairs in NYC.
"A properly maintained rolling gate can last for a very long time without the need for repairs," stated the spokesman of the company. "However, if repairs are needed, we urge business owners not to 'go it alone'. We provide cutting edge, timely, affordable rolling gate repairs in NYC, and we're happy to offer an initial quote. Inexpert repairs can drastically reduce the lifespan of any rolling gate, or even compromise the system entirely. Call the experts when you need help."
To learn more about Rolling Gates NYC or to request rolling gate repair in New York City, visit http://www.RollingGatesNYC.com
About Rolling Gates NYC: For New York City residents, only the best protection suffices. That is why Rolling Gates NYC provides only the best products and services. From new installation to repairs, licensed and insured Rolling Gates NYC provides safety. The company's mission is to offer quality, professional installations, and provide the continuation of excellent gate performance for both residential and commercial installations. With years of experience and knowledge, Rolling Gates NYC has been recognized and praised by many New York businesses and management companies including Prada, Gap, Lacoste, Payless and Zara.
Contact: Rolling Gates NYC
Phone: 212-202-0747
Web Address: http://www.rollinggatesnyc.com