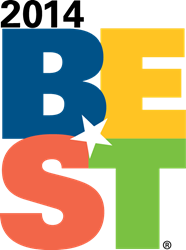 Alexandria, Virginia (PRWEB) October 03, 2014
The Association for Talent Development (ATD), formerly ASTD, honored 46 organizations from Canada, India, South Africa, Taiwan, Turkey, and the United States as winners in the 2014 BEST Awards. Cognizant Technology Solutions, headquartered in Teaneck, New Jersey, won the first place ranking for the second year in a row. The companies were recognized during a ceremony held at the Mayflower Renaissance Hotel in Washington, D.C.
"These 46 companies excel in creating innovative, vibrant talent development cultures that clearly align with strategic business goals," says Tony Bingham, ATD President and CEO. "They get it. The leadership of these organizations values the impact learning and talent development achieves, and knows that having a knowledgeable and skilled workforce drives success."
The ATD BEST Awards is the talent development industry's most rigorous and coveted recognition. The program recognizes organizations that demonstrate enterprise-wide success through employee learning and talent development.
The 2014 BEST Award winners shared their best practices at the Learn from the BEST conference preceding the ceremony and are recognized in a special section of the October issue of "TD", ATD's flagship magazine.
ATD received entries from nearly 100 organizations in 14 countries. These organizations submitted quantitative and qualitative information to ATD about their learning and talent development practices and programs. Applications were assessed in a rigorous blind review by members of the BEST Awards advisory committee, a group of experts in the field.
The 2014 BEST Award winners and rankings:
1. Cognizant Technology Solutions, Teaneck, New Jersey
2. University Health System, San Antonio, Texas
3. The Aerospace Corporation, El Segundo, California
4. Mindtree Limited, Bangalore, India
5. Tech Mahindra, Mumbai, India
6. Deloitte LLP, New York, New York
7. Verizon, New York, New York
8. IBM Corporation, Armonk, New York
9. Walgreens, Deerfield, Illinois
10. MGM Resorts International, Las Vegas, Nevada
11. Quanta Computer, Taoyuan, Taiwan
12. FM Global, Johnston, Rhode Island
13. Sutherland Global Services, Rochester, New York
14. TELUS, British Columbia, Canada
15. WNS Global Services (P), Mumbai, India
16. WakeMed Health & Hospitals, Raleigh, North Carolina
17. Lupin Limited, Mumbai, India
18. Kaohsiung City Government, Kaohsiung, Taiwan
19. ICICI Lombard General Insurance Company, Mumbai, India
20. Valvoline Instant Oil Change, Lexington, Kentucky
21. Hilton Worldwide, McLean, Virginia
22. Seattle Children's, Seattle, Washington
23. Sprint, Overland Park, Kansas
24. Taipei Medical University Hospital, Taipei City, Taiwan
25. Gables Residential, Atlanta, Georgia
26. G4S Secure Solutions (USA) Inc., Jupiter, Florida
27. Ryan LLC, Dallas, Texas
28. American Cancer Society, Atlanta, Georgia
29. New York Community Bancorp, Westbury, New York
30. OptumRx, Irvine, California
31. Bridgepoint Education, San Diego, California
32. TouchPoint Support Services, Atlanta, Georgia
33. Türkiye וֹş Bankası A.Ş., Istanbul, Turkey
34. American Infrastructure, Worcester, Pennsylvania
35. UPS, Atlanta, Georgia
36. Teknosa Ic & Dis Ticaret A.Ş., Istanbul, Turkey
37. Coca-Cola Sabco, Port Elizabeth, South Africa
38. Navy Federal Credit Union, Vienna, Virginia
39. University of Virginia Health System, Charlottesville, Virginia
40. BB&T Corporation, Winston-Salem, North Carolina
41. Bass & Associates, P.C., Tucson, Arizona
42. Signature HealthCARE, Louisville, Kentucky
43. Health Care Service Corporation, Chicago, Illinois
44. ITU AbsorbTech, New Berlin, Wisconsin
45. McAfee. Part of Intel Security., Santa Clara, California
46. USAA, San Antonio, Texas
In addition, 13 companies on this list have been BEST Award winners for three years or more. They are: BB&T, Deloitte LLP, Gable Residential, Health Care Service Corporation, IBM Corporation, ICICI Lombard GIC, OptumRx, Ryan, TELUS, University Health System, UPS, Valvoline Instant Oil Change, and WakeMed Health & Hospitals.
More information about the 2014 BEST Award winners may be found in the October 2014 issue of "TD" magazine. Details about the 2015 program will be available in January 2014.
ATD thanks AchieveGlobal, GP Strategies, Ryan LLC, Skillsoft, and UL, our 2014 Emerald Sponsors.
About ATD
The Association for Talent Development (ATD), formerly ASTD, is the world's largest association dedicated to those who develop talent in organizations. These professionals help others achieve their full potential by improving their knowledge, skills, and abilities. ATD's members come from more than 120 countries and work in public and private organizations in every industry sector. ATD supports the work of professionals locally in more than 125 chapters, international strategic partners, and global member networks.