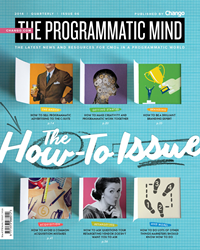 Most marketers are only scratching the surface of programmatic's potential
NEW YORK (PRWEB) October 06, 2014
Chango, the only programmatic advertising company powered by live-profile technology, today published the latest edition of The Programmatic Mind, a unique magazine of news, opinion and information for marketers operating in a programmatic world.
This "How To" edition of The Programmatic Mind features practical, step-by-step advice for marketers on topics including selling programmatic advertising to the C-suite, making creative and programmatic work together, and common acquisition mistakes to avoid.
The issue also includes top industry advice through interviews with digital all-stars from Starcom MediaVest Group, Palms Casino Resort, and The Barbarian Group.
The quirky style that is becoming a hallmark of the magazine continues with articles such as a programmatic system set-up guide vis-à-vis an old Super Nintendo gaming system. (Spoiler: X Button = Block Sites).
"Our goal with this issue is to simplify the many facets of programmatic for both seasoned marketers and those who may be new to the approach," said Ben Pomion, vice president of marketing for Chango. "Most marketers are only scratching the surface of programmatic's potential."
You can subscribe to the print edition or download the current and past editions of The Programmatic Mind at http://www.chango.com/resources/magazine/how-to-issue?utm=press.
About Chango
Chango is a programmatic advertising company, purpose-built for the marketer. The company uses exclusive intent data and technology to create relevant, timely advertising campaigns, and produce rich customer insights.
The company's unique live-profile technology makes intent data available faster than anyone else to help clients efficiently build brand awareness, acquire new customers and retarget site visitors. Chango works with more than 60 of Fortune 500 marketers and companies such as eBay, Sears, Clorox, Sprint and Toyota. To find out more, visit http://www.chango.com.