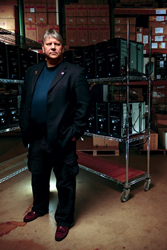 We look at this most recent SEWP V award as recognition of the successful partnership we have had with the federal government for over 2 decades.
CHICAGO (PRWEB) October 03, 2014
Ace Computers, one of the leading custom computer builders and HPC Specialists in the U.S., was just awarded a NASA SEWP V contract. Ace Computers holds a Group A contract for systems, servers and computer-based systems. The effective ordering period for this $10 billion contract begins Nov. 1.
Ace Computers CEO John Samborski said, "We are prepared for and looking forward to fulfilling the first SEWP orders on Nov. 1. We have been working with government agencies and the military for more than 2 decades and are confident that we offer the most efficient procurement process and the absolute best quality for the price."
SEWP V is the 5th iteration of the contract, which has an effective 10-year ordering period that includes a 5-year base period and a 5-year option period.
SEWP (Solutions for Enterprise-Wide Procurement), is a considerable acquisition contract, awarded by NASA, but used by all federal agencies, for technology products and services. Contract holders are authorized to provide the full spectrum of technology products including desktops, workstations and servers; and associated services including installation, training, maintenance, and warranty protection.
The SEWP V contracts are designed to provide leading-edge computer technologies, high-powered engineering and scientific data processing capabilities, network equipment, and peripherals.
Within the competition for Group A, 36 proposals were received and 23 companies received awards. Selection criteria included; industry experience, a record of successfully working with the federal government, a strong technological solution within the required system categories, leading edge solutions, aggressive pricing, and a complete contract/quality management plan.
Ace Computers' affiliate, Ace Technology Partners, is in the running for a SEWP V Group C contract reserved for small businesses that are technology resellers and last year won an equally elite USAF NETCENTS 2 contract.
"We have always worked hard to provide all of our clients, with the smartest, highest quality and most cost effective products," Samborski said. "We look at this most recent SEWP V award as recognition of that fact." For more information contact:
Marc Fertik, Vice President: mfertik(At)acecomputers(Dot)com.
Acknowledged as the best custom technology manufacturer, Ace Computers is a Woman-Owned Small Business custom technology systems manufacturer and reseller for the public sector as well as the commercial sector. Their channel partners include Intel, Supermicro, NVIDIA, Mellanox and Samsung among others. It has been an industry leader since 1983. In addition to some of the finest academic institutions in the U.S., long-term clients include the U.S. Department of Energy and the U.S. Department of Defense. Ace Computers builds custom technology with the same components that top manufacturers use without the premium price. Its principal, recognized industry expert John Samborski, is an alumnus of Intel's prestigious board of advisors. In addition to its Greater Chicago headquarters, Ace Computers has locations in New Jersey, Pennsylvania and Colorado. To contact Ace Computers, call 1-877-223-2667 or 1-847-952-6900 or visit http://www.acecomputers.com/TopProducts.asp
###
For media inquiries, contact Jeanna Van Rensselar at Smart PR Communications;
630-363-8081; jeanna(at)smartprcommunications(dot)com.