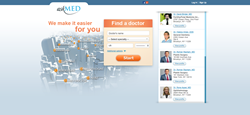 The benefits of the platform go both ways
New York, NY (PRWEB) October 08, 2014
Every day thousands of people use computers to find a doctor on the Internet. Now, thanks to KBOS Holdings LLC, people have a sleek, easy-to-use way to find right doctor online, whether the search is for a family physician in New York or immunologist in Los Angeles, cardiologist in Chicago, or most any other specialty. The new AskMED.com is a free online portal that connects doctors and patients through the Internet.
The benefits of the platform go both ways, as AskMED also helps doctors who join the AskMED network to connect with patients in need of their services. With the ease of the user in mind, AskMED has an intuitive design that's simple and easy to use.
One of the best features for patients, whether they seek a psychologist in New Jersey, a dentist in Manhattan or a cosmetic surgeon in Houston, is that information in the AskMED is easy to find due to the site's intuitive search functionality. Ease of use was the primary focus behind the design of AskMED. This is an important consideration for patients who need to find medical help in their area quickly and easily.
Upon navigating to a physician's profile page on the AskMED, a patient can browse a quick summary of the doctor. At a glance, everything from the physician's specialties to the office hours shows up on the AskMED doctor profile page. The menu on the left-hand side of the page gives patients the opportunity to learn even more detailed information about the doctor.
Patients get all the information they need to make an informed decision about area healthcare providers. At a glance, patients get everything from a doctor's employment past, education and residency to photos, articles, videos and contact info. If the doctor seems right, and accepts the patient's insurance, then the patient may schedule an appointment online simply with a click of the mouse. As the patient clicks the "Book an Appointment" button for a doctor listed in the AskMED, a form loads on the page, asking for all information necessary to set up a visit. Patients can enter the date and time they'd like to schedule the appointment, as well as contact information, and whether they'll be using insurance or not to pay for the visit.
Unlike other doctor search portals, AskMED displays doctor contact information to patients, such as phone number, email and address, so people in need of care can contact doctors directly, rather than going through a third-party system. Patients can connect directly to doctors' websites too. Patients can share the doctor's profile page on the AskMED through a number of social media sites, such as Facebook, LinkedIn and Twitter.
The AskMED.com online portal is a one-stop resource for people seeking a doctor. Not only is AskMED full of information on local doctors, but it's FREE. Patients can filter searches for doctors based on specialties, accepted insurance, languages, locations and more. Patient questions will be answered before the office is even contacted. By receiving fewer unnecessary phone calls, not only will the patient save time, but doctors offices will become more efficient from using this amazing tool.
About AskMED:
AskMED is sponsored and operated by KBOS HOLDINGS LLC, a prominent provider of doctor-patient communication solutions. KBOS HOLDINGS LLC specializes in printed and online directories and magazines, information resources, and technological applications. The joint venture combines talents and resources of a leading healthcare marketing services professionals and prominent IT professionals, with over 50 years of combined experience. KBOS HOLDINGS welcomes feedback from doctors and AskMED users on how they may continue to meet customer needs on both sides of the examination table.