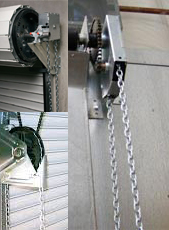 Regular maintenance will enhance safety in use and reduce replacement costs.
New York City, NY (PRWEB) October 22, 2014
Rolling Gate Repair NYC, one of the city's most respected rolling gate and commercial door installers, has today issued a warning for business owners to avoid unprofessional rolling gate repairs and maintenance. That warning is this, "Use unlicensed, unprofessional services at the risk of your business' security and your personal safety."
"You wouldn't call an electrician to handle a plumbing problem," says the company spokesman. "You'd want a professional plumber. The same concept applies to rolling gates, but it's even more important to ensure you're working with a trusted professional. A failed pipe isn't going to compromise the safety of your store in most cases. A failed rolling gate will. You need service, quality, experience and professionalism you can count on, and that's exactly what we deliver a Rolling Gate Repair NYC."
A rolling gate should provide decades of worry-free protection for a business. However, a lack of professional maintenance can create serious problems that compromise a gate's operation and the safety it provides.
Rolling Gate Repair NYC offers the following list of common rolling gate repairs in NYC to help business owners know the warning signs and take preventative action:
Impact damage
Weather damage
Dirt buildup on opener or motor
Electrical problems due to damaged wires/connections
Broken springs
Damaged gate tracks
Rusted bottom bars
Chain breakage
In all of these situations and more, it is essential that business owners throughout New York work with a licensed, insured provider. Rolling Gates NYC has over a decade of experience handling the most common needs in rolling gate repair in NYC, but also with less common repair requirements. The company also specializes in new rolling gate installation, maintenance service and more.
To learn more about Rolling Gate Repair NYC, the available repair solutions or to request maintenance or new gate installation, visit RollingGateRepairNYC.com
About Rolling Gate Repair NYC: For New York City residents, only the best protection suffices. That is why Rolling Gate Repair NYC provides only the best products and services. From new installation to repairs, licensed and insured Rolling Gate Repair NYC provides safety. The company's mission is to deliver quality, professional installations, and provide the continuation of excellent gate performance for both residential and commercial installations. With years of experience and knowledge, Rolling Gate Repair NYC has been recognized and praised by many New York businesses and management companies including Prada, Gap, Lacoste, Payless and Zara.