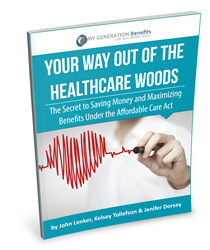 We know how confusing buying insurance can be.
Minneapolis, MN (PRWEB) October 15, 2014
cbg today announced the launch of http://www.MyGenerationBenefits.com, its new consumer-focused benefits website. Amid the Affordable Care Act's many changes to the health insurance landscape, MyGenerationBenefits.com helps individuals and families identify what factors they ought to consider when making their benefits decisions. It also offers them a multitude of benefits options.
For more than 15 years, cbg has offered dental insurance, but http://www.MyGenerationBenefits.com makes them accessible to consumers everywhere. Partnering with a select group of nationally recognized and financially sound insurance carriers, cbg has created an eCommerce website that features a variety of discount plans and insurance (some with no waiting periods) to solve a variety of life's more immediate challenges. Options include dental, vision, telemedicine, identity monitoring and restoration, and bundled plans that provide benefits such as critical illness, hospital indemnity and term life insurance. These products are designed to help consumers get the most from their limited healthcare spending dollars.
My Generation Benefits was also designed with a focus on consumer education. Buying health insurance, especially in a marketplace changed by the Affordable Care Act, can be overwhelming. The website explains what changes are underway and how they might impact consumers, so they can make the best decisions.
"We know how confusing insurance can be, and we want to help consumers make choices that provide the best value as well as the coverage they need," said Randall C. Rogers, cbg president and CEO. "Our updated website lays everything out in an easy-to-follow manner, explains products in clear language and offers options to suit different healthcare needs and spending limits. It takes the complexity out of the buying process."
Visitors to My Generation Benefits can request the eBook download Your Way Out of the Healthcare Woods, an extensive guide through the Obamacare health insurance landscape that also offers tips for striking the right benefits balance. Together, the eBook and the website assist those who buy their own health insurance benefits (or need more coverage than provided by their job-based plans) explore their options and create a smart healthcare benefits strategy—one that maximizes their finances and provides the practical benefits they need.
"With 2015 open enrollment near, consumers will be looking to renew or update their health insurance coverage, and we want to help them consider the big picture," Rogers said. "There is a tendency to focus on major medical and base our plan selections on premium alone, but it's important to consider healthcare costs, risk exposure and personal and family needs as a whole. Then, look at the additional products available away from the exchange environment. Consumers can utilize those options to improve their family's benefits situation. The new site and the eBook are intended to show people how to shop smarter and save money."
About cbg
For more than 15 years, insurance professionals, employer groups and individuals have turned to cbg for help with their insurance product needs. Our role is to carefully evaluate the financial stability and reliability of the select insurance carriers we partner with, develop highly competitive products and most importantly provide a unique experience for the consumer, superior service and flexibility to clients and agent distribution patterns. To learn more, visit http://MyGenerationBenefits.com.