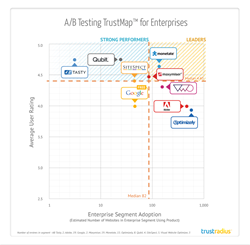 The introduction of low-cost and easy-to-use tools and growing awareness of potential ROI has increased the practice of testing amongst marketers
Austin, Texas (PRWEB) October 07, 2014
TrustRadius, the leading community for professionals to share candid insights about business software, today announced the release of its TrustMaps™ for A/B testing software, which rank products based on user ratings and adoption within each market segment - small businesses, mid-size companies and enterprises.
Unveiled in its first Buyer's Guide to A/B Testing and Web Optimization Software, the TrustMaps™ quickly help software buyers locate the solutions most highly rated and adopted by their direct peer group and therefore most closely aligned to their needs.
Each TrustMap™ depicts A/B testing products on two dimensions – likelihood to recommend ratings by users and the estimated relative number of websites using the product within that company segment size. All ratings come from authenticated users of A/B testing tools on TrustRadius.com.
The Buyer's Guide also distills the pros and cons of each software product, as cited by software users in 200 in-depth reviews.
Because success is not solely contingent on software selection, the guide includes a discussion of key factors for achieving success with A/B testing, drawn from interviews with highly regarded testing, analytics and conversion experts.
"The introduction of low-cost and easy-to-use tools and growing awareness of potential ROI has increased the practice of testing amongst marketers" said Vinay Bhagat, CEO of TrustRadius. "Our A/B Testing TrustMaps™ provide digital marketers with a pragmatic approach to identify the best-fit solutions based on market segment user satisfaction and adoption. Pure-play testing vendors such as Monetate, Maxymiser, SiteSpect, Optimizely and Visual Website Optimizer are besting traditional vendors."
Jason Burby, President, Americas at Possible says: "It is great to see a guide like this that covers large and small players, broken out by the size of clients' organizations as well. If you are evaluating any of these tools you now know the questions to ask each vendor during the sales process."
Justin Rondeau, Chief Testing Evangelist at WhichTestWon adds: "With the rapid growth of the conversion rate optimization and A/B testing community, marketers need a reliable source for picking a testing tech. In this Buyer's Guide, TrustRadius went above and beyond by studying hundreds of reviews from actual test practitioners, and providing technical specs."
Best A/B Testing Software for Enterprises
Based on user ratings and market segment adoption, the Leaders within the Enterprise segment are:

Strong Performers in the Enterprise segment are Qubit, AB Tasty and SiteSpect.
Best A/B Testing Software for Mid-Size Companies
In the Mid-Size segment, the Leader is:
Strong Performers with high user satisfaction but lower mid-size segment adoption are AB Tasty, Maxymiser and Monetate.
Best A/B Testing Products for Small Businesses
In the Small Business segment the Leaders are:
Unbounce
Visual Website Optimizer
The Strong Performer in this segment is Monetate. Though focused on enterprise customers, the tool is also highly rated among small businesses.
Additional Insights on A/B Testing Software Market
44 percent of A/B testing software users spend more than $10,000 per year on A/B testing software, and 48 percent expect to increase their spend in the coming year [1]
Many companies are using more than one testing tool, each tailored to a different technical skill level (43% of survey respondents)
In general, companies move from having one A/B testing champion, to a team dedicated to testing, to a testing-based culture, where different business units across the organization are involved in testing.
The Free Buyer's Guide to A/B Testing Software is available here: [1 Source: 2014 TrustRadius Conversion Rate Optimization survey
About TrustRadius
TrustRadius is the leading site for business software users to share real-world insights through in-depth reviews and networking. We help users make better product selection, implementation and usage decisions. Every reviewer is authenticated and every review vetted before publication. Unlike simple rating sites, TrustRadius reviews are structured and substantive, averaging more than 400 words each. Reviewers can also update their reviews to keep them current. Founded by successful entrepreneurs and backed by the Mayfield Fund, TrustRadius is bringing transparency and efficiency to the $3.7 trillion business technology market
To learn more, visit http://www.trustradius.com