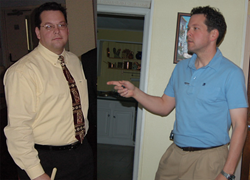 A recent in-house survey of over 25,000 actual Diet Doc patients revealed an average loss of 20 lbs. per month while Contrave patients lost an average of 7.5 lbs. per year.
Los Angeles, CA (PRWEB) October 06, 2014
Because of the nation's very real obesity epidemic, pharmaceutical companies throughout the country are interested in learning more about the intricacies of appetite and hunger. Research has revealed that the same hormones and neurotransmitters that affect hunger and appetite also control one's mood and emotions. This is one of the most formidable challenges for pharmaceutical companies when developing drugs for weight loss because most drugs designed to control appetite and hunger tend to have potential side effects similar to drugs used to treat depression, anxiety, addiction and seizures.
The development of a newly approved drug, Contrave, is actually a combination of two previously approved drugs. Naltrexone is used to treat addictions to alcohol and opioids and stimulates the risk, reward, pleasure and pain center of the brain, while bupropion is typically prescribed to treat depression and seasonal affective disorder. While Contrave is actually better than a placebo when combined with a medical weight loss plan, side effects are common and, sometimes, serious.
While there is still much to learn about appetite and hunger, the ultimate answer may lie in balancing the existing system of hormones and neurotransmitters. Ensuring that all hormones and neurotransmitters are in balance with one another keeps appetite and hunger harmonious to the body's energy requirements.
Diet Doc's medical weight loss programs aim to balance the system, rather than control it with drugs. Their nutritionist-designed meal and snack plans combine healthy, low-carbohydrate foods with prescription hormone diet treatments, appetite suppressants and proprietary diet pills to balance hormones, control appetite and overcome the urge to indulge in sugary, fat laden foods. New patients can simply log onto the internet to complete a health questionnaire and schedule an online consult with a Diet Doc physician. During the consult, the doctor will review the entire system to uncover the real reason for weight gain, such as hormonal imbalances, improperly functioning organs or cellular toxicity.
Patients that follow Diet Doc's medical weight loss programs report rapid weight loss without side effects. In fact, a recent in-house survey, including over 25,000 actual Diet Doc patients, revealed an average weight loss of up to 20 pounds per month, http://www.dietdoc.com/testimonials/in-house-survey while Contrave's clinical trial results reported an average loss of only 7.5 pounds per year.
Diet Doc tailors diet plans for those who are struggling to lose that final 10 pounds to those who must lose 100 pounds or more and, at a fraction of the cost of most diet plans, Diet Doc makes improving one's health and restoring their figure possible for almost everyone.
The company has earned its reputation by providing diet plans that work rapidly and safely and has become the country's leader in medical weight loss programs. Those who have been unsuccessful in the past are urged to call today to schedule a free and personal consultation.
About the Company:
Diet Doc Weight Loss is the nation's leader in medical, weight loss offering a full line of prescription medication, doctor, nurse and nutritional coaching support. For over a decade, Diet Doc has produced a sophisticated, doctor designed weight loss program that addresses each individual specific health need to promote fast, safe and long term weight loss.
Diet Doc Contact Information:
Providing care across the USA
Headquarters:
San Diego, CA
(888) 934-4451
Info(at)DietDoc(dot)info
http://www.dietdoc.com
Twitter: https://twitter.com/DietDocMedical
Facebook: DietDocMedicalWeightLoss