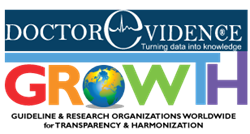 Santa Monica, CA (PRWEB) October 06, 2014
Doctor Evidence (DRE), a world leader in furthering the transparency, accessibility and rigor of evidence-based healthcare decision-making, announced today that Dr. Sarah Collins, FRSC has joined the company as Vice President of HEOR (health economics and outcomes research) and Market Access within the Client Solutions department.
"We are excited to welcome Dr. Sarah Collins to Doctor Evidence. She will further strengthen an integral dimension of our Client Solutions team, lead by Jeff Frimpter, MPH, where she will support the continued growth of our HEOR and Market Access capabilities," said Robert Battista, CEO and Founder.
Dr. Collins most recently served as the Senior Director of Systematic Review (SR) at Abacus International. Over the past nine years she established and maintained the largest Systematic Review team in Europe, delivering more than 300 projects and providing market access solutions to 19 of the top 25 pharmaceutical manufacturers. Dr. Collins' experience related to strategic planning, mergers and acquisitions, and other activities focused on developing cutting-edge SR methodologies will further complement Doctor Evidence's services in these and similar areas.
"Sarah represents another key addition to our rapidly growing Client Solutions team as we continue to support increasingly more innovators in their preparations and characterization of value related to HEOR, market access, and health technology assessment," said Jeff Frimpter, MPH, VP and Head of Client Solutions. "Since Doctor Evidence brings such a unique and expansive offering to healthcare decision-making, our Client Solutions team needs remarkable diversity and depth in our skill sets. Sarah brings very strong, complementary expertise to the strategic and scientific consultative services our team provides. We are very pleased to welcome Sarah as our first European-based team member to more directly support our rapidly expanding engagements with EU-based organizations."
"I am very excited to join Doctor Evidence in this capacity, which is directly in line with my experience and my drive to continue pushing innovation in healthcare decision-making," Dr. Sarah Collins stated. "The Doctor Evidence specialty software-service model provides significant evolutionary steps forward in how our partners prepare their HEOR and market access contributions to the marketplace. I look forward to supporting further improvement of our partners' attention to accuracy, efficiency and flexibility in the identification, synthesis and translation of scientific information to their stakeholders."
About Doctor Evidence, LLC
Doctor Evidence is a specialty software platform and services company aimed to assist stakeholders across the healthcare ecosystem to make and inform clinical and business decisions with the most relevant medical evidence. The Doctor Evidence methodology uses a Digital Outcome Conversion (DOC™) approach of taking data from published clinical studies, FDA drug labels, epidemiological databases and other real-word evidence datasets to transform static data into reusable, dynamic relational databases. Our software platform empowers both public and private sector clients to identify the most relevant literature and conduct ready analyses with the highest level of transparency available for today's evidence-based medicine methodological standards, in the pursuit of reducing healthcare costs while increasing the quality of patient outcomes.
Doctor Evidence serves decision-makers in two large addressable market segments, Medical Manufacturers and Healthcare Providers, for the ultimate wellbeing of patients. Doctor Evidence is helping to transform the healthcare ecosystem by identify the most efficacious and safe medical treatment on a comparative effectiveness basis, including related economic costs and total-cost-of-care analysis.
Find out more at http://drevidence.com