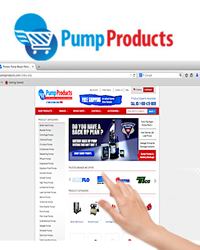 The site makeover was undertaken with an eye toward maximizing Pumpproducts.com's clarity, interactivity and user-friendliness.
Wallington, NJ (PRWEB) October 07, 2014
Pump Products, a leading online retailer of pumps and pump parts for residential, commercial and industrial clients has unveiled a redesigned website (http://www.pumpproducts.com) that simplifies pump selection, increases site speed and streamlines the on-line shopping experience.
The New Jersey-based retailer sells pumps, pump parts and accessories at discount prices through an extensive on-line catalog featuring original product photos, manuals, performance charts, user guides, comparison tools, and customer reviews.
"Pumpproducts.com serves as a portal to an extensive inventory of quality pumps and pump parts from Armstrong, Bell & Gossett, Grundfos, Hydromatic, Liberty, Zoeller and a dozen other leading manufacturers," says General Manager Ed Drejman. "It's also our help desk, sales counter and check-out. These areas require a lot of square footage in the real world so devoting comparable resources to our digital space makes sense as we strive to address the e-commerce landscape in relevant and effective ways."
The remade site is characterized by a clean design and an intuitive selection process, key elements in connecting pump buyers to the product and sizing information necessary to choose appropriate pumping equipment.
"The site makeover was undertaken with an eye toward maximizing Pumpproducts.com's clarity, interactivity and user-friendliness," says Product Expert Fred Hettinger. "In addition to product information, we've set out to provide as much on-line assistance as possible in the form of chat windows and toll-free telephone-based customer service. PumpProducts.com enables us to effectively bridge the gap between manufacturer and buyer with a team of pump specialists who expertly guide customers through the process of selecting and sizing the best possible pump to suit their needs."
The website makeover is accompanied by inventory additions including an expanded selection of Little Giant products, Armstrong's new maintenance free bearing assemblies and engine driven trash pumps by Wacker and AMT.
"With 520,000 square feet of warehouse space, we are able to stock an extensive inventory of in-demand pumps and parts by leading manufacturers like Armstrong and Bell & Gossett so we're often able to get an order out the same day," says Fred Hettinger. "Along with quick delivery, we offer free shipping on many items and a lowest price guarantee."
Foregoing costly retail space in favor of e-marketing directly through social media tools and display advertising built into the new site enables Pump Products to undercut large retailers with an interactive Lowest Price Guarantee -- any buyer who can document a lower price on a purchased item within 30 days receives a $110% refund on the difference.
"As we become more familiar with the digital marketing landscape and the opportunities it offers to reach larger groups of customers by clearly offering what we have, we undertake site improvements aimed at broadening our appeal and attracting new customers," says Ed Drejman. "Our goal is to set the standard for informative, functional and secure online pump sales."
COMPANY INFORMATION
Pump Products is an online pump retailer offering an extensive selection of pumps and repair parts by leading manufacturers including Armstrong, Bell & Gossett, Taco, Berkeley, Hydromatic and BJM to residential, commercial and industrial customers. For more information, visit Pump Products at http://www.pumpproducts.com or call 1-800-429-0800.