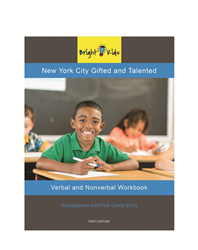 New York (PRWEB) October 16, 2014
New York City's Gifted and Talented Program objective is to meet the needs of exceptional students. Curricula are accelerated and rigorous instructional strategies are applied to students who meet the eligible requirements. The Gifted and Talented program in New York City has some of best public elementary schools in the country, offering an excellent education without private school cost.
Bright Kids NYC continues to create programs and publications that meet the testing and tutoring needs of New York City families. Understanding the content and format of tests enables children to perform to the best of their ability. The new G&T workbook contains over 200 practice questions for a student to hone his or her visual reasoning, listening, arithmetic and logic skills. It's divided into nonverbal and verbal sections that each focus on the 7 different question types a student will encounter on the test. The nonverbal section contains 40 pattern completion, 30 reasoning by analogy, 30 serial reasoning, and 16 spatial visualization questions. The verbal section contains 35 following directions, 30 aural reasoning, and 30 arithmetic reasoning questions. There are also strategies, advice, and/or suggested activities before any section of questions to help a student become more adept at a particular question type. Additionally, the workbook contains in-depth information about the assessments and some general strategies a student should use to maximize his or her score.
Furthermore, Bright Kids NYC's Gifted and Talented 1-on-1 Bootcamp still has slots open this fall. These popular budget-friendly packages designed to prepare students for the OLSAT® and NNAT®2 are held at all three Manhattan locations and at the new Park Slope, Brooklyn location. The new Bright Kids Workbook for the NYC G&T (K & 1st grade entry) is now available. For more information on any Bright Kids NYC programs be sure to visit our website.