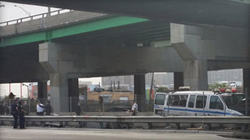 Today we mourn the loss of one of the Finest and pray for the speedy recovery of those officers injured this morning in a vehicle accident
Bronx, New York (PRWEB) October 05, 2014
Authorities indicate that the driver of the NYPD van lost control of the vehicle, and it hit a jersey barrier along the Bruckner Expressway in the Hunts Point area of the south Bronx, according to a September 21st CBS News Article. One officer was reportedly ejected at impact.
Nine Officers Taken To Bronx Hospitals:
Following the crash, all nine officers were transported to Bronx hospitals, according to the CBS article. A 25-year-old rookie officer that had been taken to Lincoln Medical Center succumbed to his injuries at the hospital. The other eight officers were all expected to survive.
New York City Police Commissioner William Bratton spoke of the loss of life that same day when he stated, "Today we mourn the loss of one of the Finest and pray for the speedy recovery of those officers injured this morning in a vehicle accident," as quoted by a September 22nd, Reuters article. The deceased officer had joined the department in January 2014. His father has been with the Carmel Police Department for over three decades, according to news reports.
A Dangerous Stretch of Road?:
Local residents told reporters that the stretch of Bruckner Expressway where the crash occurred had seen numerous other accidents in the past. They also indicated that there had been heavy rain during the overnight hours, but it was uncertain as to whether a wet roadway was a factor in the wreck. Investigators were on the scene by 8 a.m.
Even single-vehicle crashes can be complex events that require extensive investigation. Many questions may arise when such events occur. Was the driver negligent in some way? Was the vehicle properly maintained? Did a part on the vehicle fail? Is a stretch of road inherently unsafe in some way?
An attorney that focuses on relevant elements of New York State law may offer assistance to an injured party or to the family of a person killed in such an accident. The possibility of negligent conduct contributing to such a crash can be assessed, sometimes through additional investigations. When it is reasonable to claim negligence, civil litigation may potentially seek compensation for certain medical expenses, pain and suffering and other possible losses.
To speak with a Bronx car accident attorney about a crash that you or a family member has been involved, please contact the law firm of Pulvers, Pulvers, Thompson & Friedman, LLP.