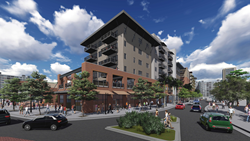 There is a niche in Tallahassee that is being overlooked.
TALLAHASSEE, FL (PRWEB) October 06, 2014
Urban Street Development—the Fort Lauderdale-based group overseeing the design, building and management of FSU CollegeTown in coordination with the Seminole Boosters—today announced the official opening of the Sales Center at the Railyard Lofts. The Railyard Lofts at CollegeTown is a first-of-its-kind residential alternative to hotel living for FSU fans and supporters, and frequenters of Tallahassee. The new sales office is conveniently located at 815 West Madison Street, just steps from the new residential condominium site in the burgeoning CollegeTown district.
According to South Florida real estate developer and FSU alum, Alan Hooper, co-founder of Urban Street Development, "There is a niche in Tallahassee that is being overlooked. I've been commuting up here for the last four years and have found there is limited stock of low-maintenance, non-student housing options that can provide a home away from home, either for rent or purchase that are close to the capitol, surrounded by eateries and a quick shot to the airport."
Enter the Railyard Lofts, currently being developed by Hooper and Urban Street. The industrial-style condo at Gaines Street and Woodward Avenue is being built for alumni and corporate owners seeking a first-class, carefree stay. The development will feature 42 urban-inspired loft units, as well as sport an incredible amenity deck and the closest proximity to Doak Campbell Stadium. The street level will also provide several retail establishments and eateries for residents to enjoy.
During football games, Railyard's "tailgate deck" will provide bartenders, wait staff and grilling stations manned by Railyard chefs. Communal and private dining tables, and lounge areas with fire pits overlooking the stadium will complete the premium tailgating experience. During legislative session, residents can reserve the amenity deck and bar area for corporate entertainment. A concierge service will provide everything from grocery shopping, maid service and maintenance to a golf-cart shuttle to the stadium on game days.
"CollegeTown is the catalyst for the revitalization and re-use of the Madison and Gaines Street area," said Tim Petrillo, co-founder of Urban Street Development. "From current students looking for the perfect place to meet up with friends to alumni reliving game day traditions, CollegeTown is quickly becoming the place to be in Tallahassee."
When the plans for CollegeTown were first announced by the Seminole Boosters in 2011, several national student housing developers began gobbling up large parcels of property along Gaines and Madison streets. By the opening day in 2013, approximately 4,000 new student beds had either been occupied or were planned, forever changing this once blighted warehouse district south of campus.
This fall, more than 7,500 students will live in and patronize this district, which encompasses the area from Woodward Avenue to Macomb Street and from Gaines Street to Pensacola Street. Developers and retailers have taken notice of the population surge. In addition to the Railyard Lofts, several national retail and hospitality brands have also arrived, such as Urban Outfitters, CVS and Madison Social.
To address the growing demand for property in the CollegeTown district, the development team already has plans in the works for CollegeTown Phase 2, which will offer 22,000 square feet of prime retail space along Madison Street. As another impact, CollegeTown's bustle is expected to draw more fans, parents, weekenders and business commuters—which is where the Railyard Lofts come in.
With a prime location overlooking Doak Campbell Stadium, the Railyard Lofts provides a premier opportunity for FSU alumni, supporters and frequenters of Tallahassee to own a prime piece of real estate in CollegeTown. Starting in the high $200s, each two-bedroom, two-bath unit features stainless steel appliances; concrete floors; ten foot ceilings throughout the majority of the unit; spacious showers with rain heads in the master bath; a washer and dryer; quartz and marble counter-tops in the kitchens and bathrooms; and a variety of unique upgrade options. In addition to the Mezzanine Deck, the property will also feature a state-of-the-art fitness facility, as well as a designer furnished Club Room and Business Center with large screen TV and bar that will serve as a common area for residents to utilize to accommodate larger groups and parties.
The Urban Street team is also developing plans for a boutique hotel next door to the Lofts for alumni, parents and corporate travelers who want easy access to shopping, gourmet dining, entertainment and the stadium. When completed, Railyard Lofts residents will have the privilege of enjoying the hotel's amenities, as well as the option of renting their unit through the hotel. This will be a game changer for a Booster who can use the loft for football season and offset costs during the legislative session.
"The concept of developing a sophisticated residential property with a hip hotel component that directly caters to FSU alumni and supporters was always a part of the Boosters' long-term vision for CollegeTown," said Hooper. "As CollegeTown continues to blossom and evolve, young professionals will want to live here, alumni will want to reminisce here and lobbyists will want to reside here through the legislative session. We're just happy to play a role in that."
The Railyard Lofts at College Town is located at 826 West Gaines Street in Tallahassee, Florida. Anticipated completion is scheduled for the fall of 2015, just in time for the start of the Florida State Seminoles 2015-2016 football season. The new Railyard Lofts' Sales Center is conveniently located at 815 West Madison Street in CollegeTown and houses a finished kitchen and bathroom featuring the same appliances and design elements as the residences for interested buyers to view. The Sales Center is open during all FSU home football games as well as by appointment. For more information, call 850-577-LOFT (5638) or visit http://www.therailyardlofts.com.
ABOUT URBAN STREET DEVELOPMENT:
Based in Fort Lauderdale, FL, Urban Street Development specializes in the design, development, construction, property management, real estate acquisition, programming, concept development, leasing and sales for a variety of businesses, properties and neighborhood revitalization projects. Led by the dynamic team of South Florida construction and real estate developer Alan Hooper and South Florida restaurateur and entrepreneur Tim Petrillo, Urban Street has designed, developed, constructed, managed, leased and sold a multitude of successful projects over the years. Together, they have successfully carved out a niche within the development of urban neighborhoods. The pair has built a "re-development" business in Urban Street that focuses on revitalization in areas within a variety of markets that possess the potential for growth and renewed lifestyle. The duo is responsible for the rebirth of Downtown Fort Lauderdale, and brings the same energy and success to all of Urban Street's endeavors. Visit http://www.urbanstreetdevelopment.com for more information.
###