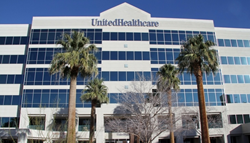 This process took more than three years to complete and we are relieved to save our investment
Las Vegas, NV (PRWEB) October 06, 2014
Breakwater Equity Partners has successfully recapitalized a distressed Class-A Office property located at 2716 North Tenaya Way in Las Vegas, Nevada. The 204,123 square foot office building went into foreclosure in 2012 and has been the subject of extensive litigation. The property is 100% leased to United Healthcare (UHC).
The property was purchased by 35 tenant-in-common (TIC) investors in 2006, with five year financing. When the loan matured in August of 2011, the TIC owners were unable to secure new financing because of the short term remaining on the UHC lease. The investors tried to negotiate a lease extension from UHC, but were not successful. The lender began foreclosure proceedings on the property.
The TIC owners hired Breakwater, a San Diego based consulting and investment firm, to assist them with the restructuring. After prolonged litigation with the lender, the various parties reached a resolution. UHC agreed to extend its lease by 10 years, and Breakwater was able to secure a new $51,000,000 loan for the property.
"We are very pleased with this outcome. This was an extraordinarily complex matter and required a very high level of sophistication to see it through," said Richard Pinto, a California attorney and Steering Committee Member for the property. "This process took more than three years to complete and we are relieved to save our investment."
Breakwater also assisted the TIC owners by purchasing the interests of those who wanted to exit, and deferring taxes for the other investors by utilizing IRC Section 721 to "roll-up" the TICs into a single LLC.
"We were fortunate to have the support of the TIC investors and several key advisors throughout this tortuous process" said Jack Rose, Chief Strategist at Breakwater Equity Partners. "The legal assistance provided by our lead counsel, Bart Larsen of Kolesar & Leatham, was absolutely crucial to the successful resolution of the various legal matters. We are delighted that the property will be resuming dividend payments, after a three year interruption."
About Breakwater Equity Partners Breakwater Equity Partners is a San Diego-based commercial real estate advisory, restructuring, and investment firm. Through our extensive experience on over 300 engagements with loan values in excess of $4B, the firm has devised a unique, multidisciplinary approach to analyzing and optimizing distressed assets. Breakwater's professional team combines legal, financial, economic, lender, tax, capital markets and regulatory expertise to devise customized strategies for each property regardless of market (primary to tertiary), asset class (office, retail, multi-family, industrial, flex, land), loan type (portfolio or CMBS), or circumstance (performing or non-performing). For more information on Breakwater Equity Partners, please call 858-490-3630 or visit http://www.breakwaterequity.com.