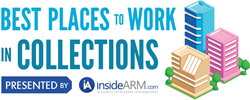 Atlanta, GA (PRWEB) October 06, 2014
For the third consecutive year, Capio Partners, LLC was named one of the Best Places to Work in Collections. Created by Best Companies Group and insideARM.com, the award program is designed to identify, recognize and honor the best places of employment in the collections industry, benefiting the nation's economy, its workforce and businesses. This year, the Best Places to Work in Collections list is made up of 35 companies divided into three size categories: Small, Medium and Large, with Capio Partners being named in the Medium Sized category (75-249 employees).
"The mere fact that Capio has been recognized as one of the Best Places to Work in Collections for three consecutive years exemplifies the efforts of the entire organization," said Lyman Sornberger, Capio's Chief Healthcare Strategy Officer. "The dedication, caring, compassion, and empathy for our clients' customers are paramount to being successful in the healthcare industry." Joe Bufano, Capio's Chief Client Officer added, "The contributions and caring-attitude of each of our employees shows in the quality of our work and our relationships with one another. Our recognition as one of the Best Places to Work in Collections for the third straight year is a direct illustration of the environment our employees have built."
To be considered for participation, companies had to fulfill certain eligibility requirements, as well as complete a two-part survey process. The first part consisted of evaluating each nominated company's workplace policies, practices, philosophy, systems and demographics. The second part consisted of an employee survey to measure the employee experience. The combined scores determined the top companies and the final ranking. Best Companies Group managed the overall registration, survey and analysis process and determined the final rankings.
For more information on the Best Places to Work in Collections program, visit the InsideARM website at: http://www.insidearm.com/features/best-places-to-work/
About Capio Partners
Capio Partners provides revenue cycle solutions for some of the nation's leading healthcare providers and hospital systems, converting uncollected receivables into cash. Capio's Complaintless Collections™ model helps optimize healthcare revenue cycles through best practices that focus on educating and advocating for patients, while remaining fully compliant with industry regulations. With a 40-year track record in the healthcare receivables industry, Capio Partners delivers results. Capio is headquartered in Atlanta, Georgia with operations outside of Dallas, Texas.