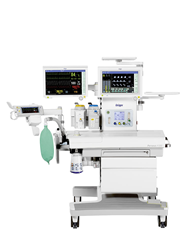 Draeger releases the Perseus A500 anesthesia workstation, one of the largest development projects ever from Draeger.
Telford, PA (PRWEB) October 06, 2014
Today Draeger announced the release of the Perseus A500 anesthesia workstation, one of the largest development projects ever from Draeger. This innovative device offers unprecedented configurability, high performance ventilation, enhanced ergonomics, and automation to support the workflow of the operating room. The new workstation will be introduced for the first time in the United States at ANESTHESIOLOGY 2014, the annual meeting of the American Society of Anesthesiologists (ASA) October 11-15, 2014 in New Orleans, LA.
"Flexibility is a major advantage of the Perseus A500 anesthesia workstation," says David Karchner, Draeger's Director of Marketing in North America. "The Perseus A500 can be easily tailored to meet the needs of users, and thereby help them achieve departmental and hospital goals. It's a powerful addition to an already solid anesthesia portfolio, which includes the Apollo and Fabius product families."
Designed by users for users
Within the scope of Customer Process Monitoring (CPM)(1), Draeger specialists observed anesthesia caregivers in their work environments and interviewed them for deeper insight. "By observing how clinicians interact with patients and the technology they rely on, we were able to draw conclusions and make adaptations supported by real-life experiences," explains Karchner.
More than 100 different versions of the anesthesia workstation can be created to match the needs of hospitals by combining various hardware options, shelf arrangements, and storage areas. In addition, various software options – such as ventilation and monitoring modes – increase the number of possible configurations.
High performance ventilation for the challenging OR environment
The quality of ventilation provided by the Perseus A500 is similar to that of an intensive care ventilator. The Perseus A500 is the first and only anesthesia machine in the United States to offer Airway Pressure Release Ventilation (APRV), which supports continuity of care between the ICU and OR. Its compact (2.2 liters), heated breathing system is designed to reduce condensation buildup and facilitate fast gas exchange rates. Draeger Low Flow Wizard technology, which can significantly reduce anesthetic agent costs, helps clinicians deliver low- and minimal-flow anesthesia with confidence and ease.
Designed to work with the Infinity Acute Care System (IACS)
The Perseus A500 can be combined with the Draeger IACS monitoring system for greater monitoring, ventilation, and networking power. IACS teams the handheld Infinity M540 patient monitor with the powerful Draeger Medical Cockpit.
Seamless integration between the Perseus A500 and IACS enables anesthesia, ventilation and hemodynamic data to be displayed on a single screen for streamlined decision-making. CO2, flow, and pressure waveforms can be displayed simultaneously with other waveforms and related parameters. Configurable, real-time values and trends of respiratory and physiological responses are available to enhance the effectiveness of therapy. To help hospitals determine the clinical and financial effectiveness of delivering low- and minimal-flow anesthesia, fresh gas and anesthetic agent consumption data can be viewed and printed directly from the Draeger Medical Cockpit.
Enhanced ergonomics
The Perseus A500 offers a number of ergonomically enhanced features to support the diverse workflows of clinicians, biomedical engineers, and anesthesia technicians. A large, well-lit workspace keeps tools and supplies organized and within easy reach. For added convenience, there are large storage drawers, a pull-out writing tray that doubles as a drawer, various shelving options, and a number of hooks and rails.
Composed of just a few easy-to-assemble/disassemble components, the breathing system facilitates the cleaning process and helps reduce the amount of time required to maintain the device. Integrated cable management channels are designed to reduce the risk of infection and accidental disconnection. Hoses and cables are guided through designated channels to keep them well protected, organized, and easily accessible.
Automation saves time and resources
To minimize time spent preparing for cases, the Perseus A500 features an automatic self-starting device test. Karchner explains, "Before users shut the Perseus A500 down in the evening, all they need to do is set the time that it needs to be ready the next working day."
Through RFID (Radio Frequency Identification) technology, the Perseus A500 automatically reminds users when to replace disposable materials such as the water trap, breathing tubes, and soda lime absorber. Vaporizers are automatically recognized and identified when mounted on the Perseus A500. The type and control dial setting of each vaporizer can be viewed directly on the Perseus A500 screen. As a result, clinicians now have a single location to view vaporizer settings, measured anesthetic agent concentrations, and other essential ventilation information – without sacrificing the feel or functionality of mechanical vaporizers. Low vaporizer filling levels are automatically indicated by acoustic and visual alarms on the Perseus A500 screen and vaporizers.
To learn more about the Perseus A500 or interactively configure an anesthesia workstation, visit http://www.draeger.com/perseusA500.
1 Customer Process Monitoring is the observation of actual user processes
Perseus A500 is manufactured by Draeger Medical GmbH.
Draeger. Technology for Life®
Draeger is an international leader in the fields of medical and safety technology. Our products protect, support and save lives. Founded in 1889, in 2013 Draeger generated revenues of around EUR 2.37 billion. The Draeger Group is currently present in more than 190 countries and has about 13,500 employees worldwide. Please visit http://www.draeger.com for more information.