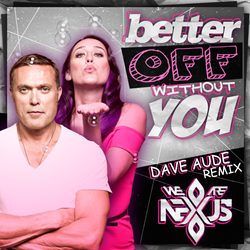 Pre-Order "Better Off Without You: The Remixes" now on iTunes to get Dave Audé and Jump Smokers smoking hot remixes!
Chicago, IL (PRWEB) October 07, 2014
For those who are just tuning in, there's a lot of talk on the street about a talented new EDM duo out of Chicago. The duo, called (We Are) Nexus and comprised producer Nick Gunn and vocalist Carmen Rainier, have been making an impression since their first release in August of 2013, a cover to Sonique's 1998 hit "It Feels So Good".
The list of accomplishments on their freshman outing was impressive, including a #1 Breakout position on Billboards Dance Club Songs, a peak position of #14 on Billboards Dance Club Songs, iTunes Top 100 Dance and #42 on Billboards Top 50 Dance/Electronic Songs. Their recent follow up single this past January, "World Around Me", also made the iTunes Top 100 Dance and once again graced the Billboard Dance Club Songs chart.
Fast forward to today and with their latest release, "Better Off Without You," already showing tremendous promise, add remix master Dave Audé, and you have a recipe for success!
Audé is a producer, house DJ, and remixer based in Los Angeles, CA. He has produced for artists such as U2, Coldplay, will.i.am, Matthew Koma, Rihanna, and Katy Perry, to name a few. Audé' has graced the Billboard Charts with over 98 #1 US dance tracks and founded his own label, Audacious Records.
"We are thrilled to be working with Dave again" says Rainier from Nexus. "He hits the nail on the head with his commercial sound and approach to remixes, it's exactly what we are looking for".
Audé opens his remix with a classic melodic hook that draws the listener in. Followed by Rainier's sassy and salty "Better Off Without You" lyrics and vocal, there's no mistaking this is a track about personal liberation, something most listeners can relate to. The chorus vocal hook "I'm going out tonight / gonna have a good time / and I won't even think about you once" is set against Audé's big room sound and instrumental lead line leaving you pumped and ready to rock.
"Dave really took the original and slammed it against the ceiling" says Gunn. "Our original actually has a thoughtful verse that is a little more reflective. Dave omitted that verse and used the grittier aspect of the song which was a great choice for club".
Get excited and on board with this and all (We Are) Nexus releases! "Better Off Without You: The Remixes" is now available on iTunes for pre-order at: https://itun.es/us/C0Ug3. Available everywhere on October 14th.
Become a citizen of Nexus Nation and win incredible swag such as festival packs, custom iPads and exclusive downloads at http://www.wearenexusedm/nexusnation. Follow (We Are) Nexus on FaceBook @WeAreNexusOfficialPage and on Twitter @WeAreNexusEDM.