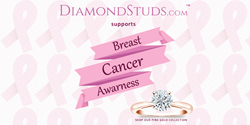 Los Angeles, California (PRWEB) October 04, 2014
The month of October is Breast Cancer Awareness month and to honor this annual campaign and raise recognition for the cause, DiamondStuds.com will donate a portion of their October sales to the National Breast Cancer Foundation Inc.. With a lovely new selection of diamond rings and pendants to choose from, donating has never been easier. Having been known as the online leader for diamond stud earrings, DiamondStuds.com is pleased to launch a variety of customizable ring and pendant options that will allow customers to make a purchase that they will not only love, but also can feel great about. DiamondStuds.com hopes that these new styles will help increase their sales this month in order to make a generously large donation. DiamondStuds.com is pleased to be joining the fight for Breast Cancer Awareness and hopes that their customers will take part in this amazing cause as well. DiamondStuds.com urges everyone to help in any way possible, in order to be one step closer to finding a cure. See more hot deals listed on here.
The National Breast Cancer Foundation Inc. was founded in 1991 with a mission to educate women about early detection, prevention and support. DiamondStuds.com has decided to join the fight against breast cancer and support the women in need by donating a portion of the October sales to the women in need. By offering a larger selection of new products for their customers to choose from, DiamondStuds.com furthers its commitment to customers.
About DiamondStuds.com:
Armed with a mission of lasting excellence and superior knowledge about diamonds, DiamondStuds.com focuses on diamond jewelry. The attention to details allows the company to offer their consumers the largest selection of fine diamond earrings, diamond necklaces and diamond rings online. DiamondStuds.com also provides a huge array of customization options, enabling each individual to create an exquisite pair of studs, halo earrings, gemstone earrings or fashion earrings unique to his or her personal preferences. To learn more about DiamondStuds.com, please browse the website at http://www.diamondstuds.com. Customers can call DiamondStuds.com at 1-855-WOW-STUDS (1-855-969-7883), to speak live with a diamond expert or send an email to info(at)diamondstuds(dot)com.