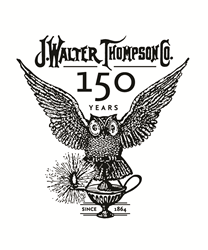 Lucie's experience is a strong complement to JWT's longstanding and highly respected trends unit. She will deepen our understanding of cultural shifts and drive innovation possibilities for our client brands
NEW YORK, NY (PRWEB) October 09, 2014
JWT announced today the appointment of Lucie Greene as Worldwide Director of JWTIntelligence. Greene will be responsible for driving JWT's consumer insights and trends-focused initiatives, adding bench strength to the agency's trends unit, JWTIntelligence. She will join the agency in October and be based in New York while reporting to JWT Worldwide Planning Director Guy Murphy.
Joining JWT from LS:N Global, the forecasting division of leading London-based trends consultancy The Future Laboratory, Greene brings more than a decade of experience exploring emerging shifts in lifestyle and consumer behavior for both international publications and brands. During her time at The Future Laboratory as the editor of LS:N Global, Greene led a team of researchers that forecast trends for clients including Google, Marks & Spencer, LVMH, Westfield, H&M, Nike, Pernod Ricard and Estée Lauder, among others.
"Lucie's experience is a strong complement to JWT's longstanding and highly respected trends unit. She will deepen our understanding of cultural shifts and drive innovation possibilities for our client brands," said Murphy.
Greene is a well-respected journalist and editor. Prior to joining The Future Laboratory she was a regular contributor to titles including The Financial Times, Women's Wear Daily, Vogue UK, Elle Decor UK and The Telegraph, and worked with clients including LVMH, Richemont Group and Space NK on branded content projects. She started out as a reporter for Women's Wear Daily and still contributes to the Financial Times.
During her time at The Future Laboratory, Greene presented for leading international organizations including Estée Lauder, FitFlop, Virgin, Rolls-Royce, Ralph Lauren, and Soho House Group on trends, and led strategic content partnerships with Retail Week Live and Cosmetic Executive Women. She has also consulted as an expert on various bespoke projects for The Future Laboratory's consultancy division.
She has also been featured as an expert on trends and consumer insights on CNBC and Brand Republic television, and quoted by CNN as well as The New York Times, Bloomberg Businessweek, The Sunday Times, The Guardian UK and Newsweek, among others.
Commenting on the new role, Greene said, "I'm thrilled to be joining JWT at this exciting time. JWTIntelligence has established a culture of futurism, trends and consumer insight at JWT. I'm looking forward to building on this even further, working with JWT's new and existing clients to create innovative, inspiring and future-facing platforms and strategies. JWT has always been regarded as a pioneer in its field and I'm proud to be joining such an iconic company."
ABOUT JWT
JWT is the world's best-known marketing communications brand that has been inventing pioneering ideas for the past 150 years. Headquartered in New York, JWT is a true global network with more than 200 offices in over 90 countries, employing nearly 10,000 marketing professionals. JWT consistently ranks among the top agency networks in the world and continues a dominant presence in the industry by staying on the leading edge—from producing the first-ever TV commercial in 1939 to developing award-winning branded content today. For more information, please visit http://www.jwt.com and follow us @JWT_Worldwide.
ABOUT JWTINTELLIGENCE
JWTIntelligence is a center for provocative thinking that focuses on identifying shifts in the global zeitgeist. Its aim is to bring the outside in—to help inspire ideas beyond brand, category and consumer conventions—and to identify emerging opportunities so they can be leveraged for business gain. As a part of JWT, the world's best-known marketing communications brand, JWTIntelligence has conducted trends research and analysis across categories and geographies for nearly a decade. For more information, please visit http://www.jwtintelligence.com and follow us @JWTIntelligence.