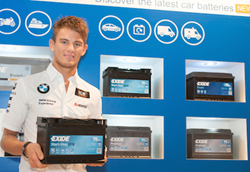 Gennevilliers, France (PRWEB) October 06, 2014
Exide Technologies has launched a new range of batteries offering significant performance gains, faster recharging and a sleek new design. The new range was unveiled at the Automechanika 2014 trade fair in Frankfurt, a key event in the automotive industry.
Exide's new Start-Stop batteries were first developed in its original-equipment business, and are coming to the aftermarket for the first time. The new batteries meet the strict requirements of carmakers, and include all the features from Exide's current OE generation.
Exide's new absorbed glass mat (AGM) battery delivers four times the cycle life, 20% more power and three times greater charge acceptance than a standard battery. This is achieved through high-performance materials and state-of-the-art technology, including advanced lead-tin alloys, high-surface glass mat separators and unique carbon additives. The new Exide EFB battery shows similarly impressive gains.
Start-Stop vehicles already make up 15% of cars on European roads, and this will reach 50% within just five years. Exide has been investing in its own plants to compete in this market for a considerable period of time. The company invented the first Start-Stop AGM battery in 2004 and the first EFB battery in 2008.
There are also major performance gains in Exide's line-up of conventional batteries. The new Premium Carbon Boost recharges up to 1.5 times faster and delivers 30% more starting power. This is a result of Exide's new Carbon Boost technology, a key breakthrough from the company's research and development facility.
When a standard battery discharges, sulphate particles build up on the negative plate, forming a non-conductive layer that inhibits recharging. Exide's Carbon Boost dissolves these particles by incorporating proprietary carbon additives into the negative plates, increasing conductivity. This greatly improves charge acceptance and charging times.
Exide also redesigned its labels for the new range, emphasising strong typography and clean design, and sending customers to mobile-optimised product pages for more detailed information. Every product in the new range will have a QR code and a short URL on the label, giving motorists easy access to the information they need.
Customers looking for the right product from the new range can use Exide's Battery Finder app. They enter their registration number, car model or VIN to see a list of matching parts, and can then narrow their search based on battery performance and typical usage scenarios.
"The new range is the most technically advanced on the aftermarket," said Michael Ostermann, European president at Exide Technologies. "We combined world-class R&D with the experience we have gained working with the world's leading carmakers."