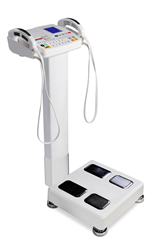 Your product is one of the best investments I have made for the gym so far.
Rice Lake, WI (PRWEB) October 09, 2014
For fitness professionals who want better results for their clients and a faster return on investment, Rice Lake Weighing Systems will have a powerful and affordable body composition analyzer on display at Club Industry 2014 in Chicago, IL October 22-24. Visitors to booth #542 will receive a personalized body composition analysis as well as have the opportunity to speak with product expert, Joe Giglio. The Club Industry show is the leading independent event for fitness professionals and aims to address the latest fitness trends and best practices for clients' needs, as well as provide tools in advancing the fitness business.
Rice Lake's Competitor Series body composition analyzer uses the most advanced bio-electrical impedance analysis to provide a complete fitness and health assessment. Ideal for busy fitness centers and gyms, this multi-frequency segmental analyzer is available in three models: D-1000-1 Lower, D-1000-2 Upper and D-1000-3 Full Body. A built-in thermal printer immediately prints results and the optional Goal Setter mode allows for users to effectively establish and track fitness goals. In addition, the optional Body Pass™ software tracks progress over time and helps clients gain a clearer understanding of their overall picture of health. Glenn Gajeski, President of Bode Central in Green Bay, WI says of his body composition analyzer, "Your product is one of the best investments I have made for the gym so far."
More information regarding the Competitor Series body composition analyzer can be found by visiting ricelakehealth.com/BCA.
Rice Lake Weighing Systems is an international leader in the manufacture and distribution of weight-related products and process-control equipment. Within this ISO 9001 registered company, progressive new technologies merge with the wisdom of industry experience and create the future of weighing through cutting-edge research and design.