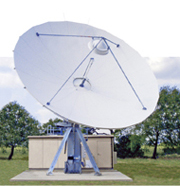 The fast-growing, geographically dispersed markets of Asia represent an important growth market for the satellite industry.
Plano, Texas, USA (PRWEB) October 28, 2014
ASC Signal Corporation has secured a contract with PT Anta Mediakom of Indonesia to deliver a fully-agile, high-performance 9.3-meter gateway for installation as a VSAT hub for PT Anta Mediakom's customer, a well-known service provider in the region. The C-band antenna system will ensure solid performance at the higher data rates demanded by its customer across an IP Managed Services network carried on the Telkom 2 satellite.
Along with the 9.3-meter earth station, ASC Signal is providing the antenna system complete with ASC's Next Generation Controller (NGC), which gives users a single, simplified, central device to control and operate multiple antenna systems. The NGC's advanced features include remote access and tracking capabilities built into the system, an internal spectrum analyzer, redundancy control systems, and many other high-performance controller features.
"Our company has been installing ASC Signal antennas for more than seven years and found them to be of high quality and reliability," said Danny Sudirman, General Manager of PT Anta Mediakom. "We believe that this project will raise the company's profile in the Indonesian market."
"The fast-growing, geographically dispersed markets of Asia represent an important growth market for the satellite industry," said ASC President and CEO Keith Buckley. "We are pleased that leading companies like PT Anta Mediakom recognize the quality and performance of our systems as a differentiator for their offerings to customers."
ASC Signal's line of high-performance antennas, from its most compact 2.4-meter ESA through its largest 14-meter ATC systems, cover all widely-used commercial and military frequency bands, including HF-, L-, S-, X-, C-, K-, Ku-, Ka-, Q- and V-bands. The wide number of feed options available on the company's antennas and the overall flexibility of configurations continue to prove extremely valuable to users of the company's entire line of antennas on the various systems in use around the world.
About ASC Signal
ASC Signal is a multinational manufacturer of high-performance, highly-engineered satellite Earth station, radar and HF antenna systems. Our customers include international broadcasters and Fortune 500 companies, as well as military and government organizations. ASC Signal leads through design innovation that capitalizes on a 40+ year heritage of engineering creativity and excellence. ASC Signal is a member of the World Teleport Association and the Society of Satellite Professionals International. http://www.ascsignal.com
About PT Anta Mediakom
Established in 2001, PT Anta Mediakom is a fast-growing reseller and systems integrator serving the Indonesian market.