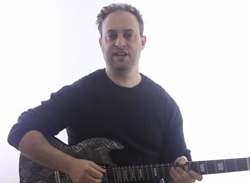 I just want to give you five essential techniques
(PRWEB) October 03, 2014
"I just want to give you five essential techniques," says Johnson, "if you are just getting started with lead guitar this is stuff you have to know." Claude says that you must know the scales and he uses the pentatonic scale for these examples, but does not demonstrate the scale it self. The five techniques are as follows; number one, hammer-on's which is where you pick a note in the scale and then play the following note fretting it down hard so that sound is produced without having to pick it. Second is pull-off's; which is where a note is picked and the dragged off the fret board to the preceding note in the scale. Third is slides; which is when a note is picked and then slide either up or down to the next note in the scale. Fourth is vibrato; which is a musical technique that consists of a pulsating change of pitch used to add expression to a musical note. And finally number five which is bending; which is when a note is picked and then the string is either pushed up or pulled down with the fretting finger to achieve the next note in the scale. More information can be learned about these techniques at GuitarControl.com.
The Pentatonic Scale is a musical scale with five notes per octave. They can be found all over the world and are the main scale used in the Blues genre.
Claude Johnson
Claude Johnson, a native of Philadelphia PA, began playing guitar in 1990 after being inspired by players like Jimi Hendrix, Eric Clapton, and Stevie Ray Vaughn. He is the creator of GuitarControl.com and has helped 1000's of people to learn to play the guitar with his critically acclaimed instructional DVD courses, all available at GuitarControl.com
About GuitarControl.com
GuitarControl.com is the leader in modern guitar instruction. It's packed with recourses including articles, video lessons, and the best videos in the business for the beginner to the advanced guitar student taught by the best instructors out there. Weather you are into the blues, rock, jazz, metal, folk, or anything in between, they have you covered.