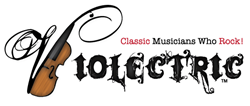 Orlando, FL (PRWEB) October 03, 2014
In the wake on an electrifying fall performance season at charitable galas and community events, esteemed Central Florida based rockin' strings group Violectric is excited to announce their expansion on an international platform as both as an official "MTV Artist" and featured band joining the play list on Sirius XM Radio "Elevations." Led by the talented Michelle Jones (a.k.a. the Vinylinist), the popular string quintet plus keyboards and drums continue to twist musical genres with astounding renditions of your favorite classic rock hits.
As a featured on MTV.com, Violectric will be able to grow their larger fan base by connecting online with followers worldwide and joining the booming MTV conglomerate that includes MTV2, VHI and all Viacom networks. Visit their artist page at http://www.mtv.com/artists/violectric/ for photos, videos, downloadable tunes and even track how they are emerging over time.
Simultaneously starting October 6, fans can tune in to Sirius XM Satellite Radio Channel 703 "Elevations" for the genre-bending classics that make Violectric a force to be reckoned with. "Elevations" brings you reimagined versions of your favorite classic rock and pop songs and is sure to be enhanced with Violectric's unique fusion of string instruments and cutting-edge modern technology effects.
"We are ecstatic for our music to be heard on Sirius XM Elevations and for the group to be featured on MTV.com," says Founder and Lead Violinist of Violectric Michelle Jones. "It is without a doubt our greatest passion and joy to play the music we love and impress audiences near and around our hometown of Central Florida with our unique sound, and we are thrilled to continue to broaden our reach and look forward to gaining many more fans and listeners all across the world."
See Violectric perform at the Winter Garden Music Fest in Central Florida on Saturday, October 11. For more news and information on performances, upcoming tours and happenings with Violectric, visit http://violectric.net, and contact 407-434-1261 for booking inquiries.
###
MEDIA CONTACT: Ilene Lieber, 321-277-7812, ilene(at)passionprconsulting(dot)com