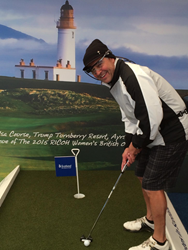 Eye tracking in golf putting ...provided a performance benefit to Scottish Golf athletes
Bedford, MA (PRWEB) October 07, 2014
Applied Science Laboratories (ASL), the leader in athletic training eye tracking technology, was featured by the sportscotland institute of sport (SIS) at this year's Ryder Cup. The SIS provides Scottish professional athletes with innovative, high performance sports expertise and analysis to improve their performance.
"In Scottish Golf we have developed practical applications for visual eye tracking in golf putting that have provided a performance benefit to Scottish Golf athletes. This work embraces current evidence-based knowledge, and where required, has explored new ideas within the high performance environment," stated Malcolm Fairweather, Head of Science and Innovation for the SIS.
The SIS hosted an exhibit at the Ryder Cup within the Scotland Welcomes the World Zone, representing Team Scotland. The exhibit offered a select group of spectators the chance to have their golf game analyzed by the SIS's team of professionals using ASL's Mobile Eye-XG eye tracking glasses. The institution used eye tracking data gathered from the demonstration to offer participants personalized tips to further develop their visual golf skills.
ASL's technology allowed the SIS to offer participants customized tips on their golf game by:

Measuring and recording visual focus of attention
Quantifying and qualifying the importance of vision in golf
Generating visual and numerical data that athletes could respond to quickly
The SIS's use of eye tracking data is an example of the effectiveness of eye tracking as a tool to optimize athletic performance by providing athletes with valuable insight into flaws in trajectory approximations, focus and hand eye coordination.
About ASL Eye Tracking Technology
With over 30 years of experience in eye tracking development, Applied Science Laboratories (ASL) in Bedford, Massachusetts, is recognized as the authority on eye tracking.
ASL's current eye tracking solutions include the wireless Mobile Eye-XG eye tracking glasses and EYE-TRAC, a comprehensive suite of versatile eye trackers with powerful data analysis software. These systems are designed and manufactured by ASL and are used worldwide in sports research, academic studies, market analysis and industrial markets.
ASL's cutting-edge innovations include: desktop optics with head motion compensation, portable, wearable devices, eye/head integration, long range optics for fMRI and revolutionary data analysis options. With dynamic, scalable and innovative solutions, ASL's line of eye tracking solutions represents the most complete line of eye measurement and recording available today.