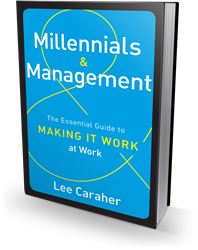 Caraher's compilation of best practices will help organizations make the most of a cross-generational workforce and build a more productive and positive workplace.
Boston, MA (PRWEB) October 14, 2014
Today, Bibliomotion launches its newest title, Millennials & Management: The Essential Guide to Making It Work at Work by Lee Caraher (October 14, 2014).
In it, Caraher addresses the dissonance between Boomers and Millennials in the workplace. She provides practical tools and real-life examples to help readers bridge the generational gap and co-create a more productive work environment for the future and today.
"Caraher's compilation of best practices will help organizations make the most of a cross-generational workforce and build a more productive and positive workplace."
–Publishers Weekly
Learn more about Caraher's inspiration for the book in an interview with Bibliomotion:
What inspired you to write Millennials & Management?
LC: After failing at retaining Millennials in my business (and I mean epic fail) we took a hard look at what we were doing, and didn't see where the problem was. So I read what I could find on the topic – and there was a lot at the time. I was really turned off by how negative everything I read was – Boomers complaining about Millennials, Millennials complaining about Boomers, Gen-Xers squeezed between the two much larger generations and exasperated at both sides. I'm an optimistic person with at least ten years more to go in my business, and if I'm not waking up positive about my day, I lose the will to live. So I was determined to figure out how to build and manage an intergenerational culture that was built for the future so I wasn't churning people all the time, which is exhausting. After we figured it out, I found that I was advising clients and friends and mentees on the topic, and was inspired by those people to share what we learned so that other people can find the parts that work for them in their own businesses.
What was your favorite part of the writing and publishing process?
LC: In editing when I filled the manuscript with emoticons to express my reaction to the edits. ;)
Who do you hope reads your book? What do you want them to get from it?
LC: I hope that teams of co-workers read it together. I wrote it for everyone in the office – each chapter ends with Dos and Don'ts for managers (of all ages) and Dos and Don'ts for Millennials (or those that are managed of any age.) Sometimes business books are only read by leadership so the people in the office are left without a common language or understanding of where new direction is based. Millennials & Management is more of a "coaching" book that teams can read together to get a common language and set of agreements about how to appreciate and work together. My employees are going to laugh out loud when they read it, I'm sure, since it's what they hear all the time.
Who was your #1 influencer for your work?
LC: I've worked with two executive coaches in my career, Barbara Fagan and Lori Ogden Moore. They've both been hugely influential in helping me get out of my own way and realize I have valuable experiences to share.
What are you reading right now?
LC: I have a stack on my bedside table (I still love paper when I'm home) –
I'm reading Glitter and Glue by Kelly Corrigan for the second time, Pride & Prejudice is always there just in case, and How to Self-Promote Without Being a Jerk by Bruce Kasanoff (because despite doing this kind of work for others, I find it hard to do it for myself.)
About Millennials & Management:
As management ages and prepares to work longer than previous generations and Millennials join companies at a steady rate, companies are faced with the truth: they can't just wait for management to age out to fix the dissonance and tension between Boomers and Millennials in the workplace. Finding productive ways to work across the generation gap is essential, and the organizations that do this well will have significant strategic advantages over those that don't.
Millennials & Management: The Essential Guide to Making it Work at Work addresses a very real concern of large and small businesses nationwide: how to motivate, collaborate with, and manage the millennial generation—who now make up almost 50% of the American workforce. The key is to change our attitude from one of disbelief and derision to acceptance and respect without giving up our work standards. Using real-world examples, author Lee Caraher gives leaders data-driven steps to take to co-create a productive workplace for today and tomorrow.
About Lee Caraher:
Lee Caraher started Double Forte in 2002 as a new kind of communications firm designed to work with the people and companies that interested her team with the best service in the business. She also serves on the board of KQED Public Media and Grace Cathedral in key leadership positions. She is the previous Chair of the Board for Community Gatepath, one of the largest nonprofits serving people with special needs in California, and the founding Chair of the Board of St. Paul's Choir School. Caraher is also a member of Entrepreneurs Only, a YPO for entrepreneurs.
Previously she was EVP at Weber Shandwick, and President and Founder of Red Whistle, a Weber Shandwick company headquartered in San Francisco with offices in Boston, New York and London. During her tenure at Weber Shandwick companies, Caraher managed multiple offices and upwards of 300 people, and was named in the 40 under 40 by industry publication PRWEEK. Prior to working at Weber Shandwick, Caraher was with SEGA of America where she was their youngest US vice president. There she led over 500 people in Communications, Customer Service, Sega.com, and Events.
She holds a BA in history (concentrating in Medieval History) from Carleton College, which she finds useful every day. Caraher lives on the San Francisco Peninsula with her husband Pete (the chief home officer of the family), two vastly different sons and Al the blind cat.
About Bibliomotion:
Bibliomotion is a book publishing house designed for the new publishing landscape. While many publishers work to retrofit old processes for new realities, Bibliomotion was founded by book-industry veterans who believe the best approach is a fresh one – one that focuses on empowering authors and serving readers above all else. Moving away from the top-down model that has dominated the publishing process for years, we give each member of the team – including the author – a seat at the table from the very beginning and in doing so, work side-by-side to launch and sell the best content possible, making it available in a variety of forms.