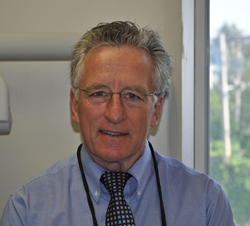 Braintree, MA (PRWEB) October 03, 2014
Individuals with receding gums in Braintree, MA are encouraged to improve their dental health during Dental Hygiene Month by receiving the Pinhole Surgical Technique (PST™) from Dr. Thomas Mone. With extensive experience providing minimally invasive treatment for both periodontal disease and gum recession, Dr. Mone is one of the few periodontal professionals who is qualified to perform PST™. Gum recession patients who do not want to deal with the discomfort of traditional gum grafting procedures are encouraged to schedule a consultation with Dr. Mone's office.
There are many cases of receding gums in Braintree, MA, but victims of the condition often refuse to seek treatment because they do not want to suffer through painful gum grafting procedures. Although some patients understand that the primary cause of gum recession is periodontal disease, many are simply unaware that a minimally invasive treatment option exists for their receding gum line. Dr. Mone seeks to raise awareness of the quick, effective, and minimally painful PST™ procedure during Dental Hygiene Month. The revolutionary treatment option covers up receded areas without taking healthy tissue from other sites within the mouth. Because there is no gum grafting involved with the PST™ procedure, there is practically no recovery time and patients do not have to deal with uncomfortable sutures.
During PST™, Dr. Mone carefully creates a pinpoint hole in the gums with a specialized tool. Once the opening is created, a long, thin instrument is inserted into the hole and maneuvered back and forth in order to loosen the gum tissue from the teeth. When the gum tissue is no longer connected to the teeth, it is then slid carefully over the receded area until all signs of gum recession are gone. The end result is a more beautiful, natural looking smile that can be obtained in a single office visit. Patients of the procedure report that there is little to no recovery time involved, and there is very little pain during or after the procedure.
Dr. Mone encourages periodontal disease patients who are living with the embarrassment and discomfort of receding gums in Braintree, MA to call his office and schedule a consultation. He hopes to inspire local residents to take advantage of Dental Hygiene Month by improving their dental health with PST™.
About The Doctor
Mone Periodontics is a periodontal practice offering personalized dental care for patients in Braintree, MA. The leading periodontist at the practice, Dr. Thomas Mone, graduated from the University of Massachusetts with a bachelor's degree, and then went on to attend the University Of Pennsylvania School Of Dental Medicine and graduated at the top of his class. He completed his periodontal training at Boston University Goldman School of Graduate Dentistry. Dr. Mone is part of one percent of dental professionals providing the LANAP® FDA cleared laser procedure for gum disease and periodontal treatment. To learn more about Mone Periodontics and their dental services, visit their website at http://www.braintreeperio.com and call (781) 348-9925.