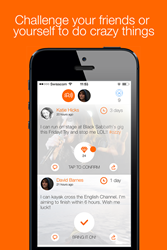 Think you can rise to any challenge? Just prove it.
London, United Kingdom (PRWEB) October 07, 2014
Startup Betify announces its launch at http://www.getbetify.com, aiming to cultivate the first mobile culture of challenges and rewards.
Founded by a former Formula 1 strategy engineer and developed by an expert 10-person team, Betify is the first mobile app that lets users interact with self-devised challenges and wagers.
Set personal goals for yourself, be it fitness or achievement landmarks, with a global support network pushing you to succeed. Or take your challenges social. Betify allows individuals to send personalized challenges to friends or open them up to a whole global community with tags. Rack up credits to unlock real rewards.
"Betify is for people who want excitement, who want to push themselves and want a space that is fun and supportive," says Founder Samuel Huber. Huber thought of the idea for Betify during the 2012 Euro Championships, when he had no way to bet with friends who were traveling. Still, he emphasizes that Betify, which is currently available in the App Store and will soon be up on Google Play, is not a gambling app.
"Betify is not gambling," says Huber, who explained that the legal complications would have been too difficult to accommodate money-based bets. "There's no money involved. We developed a virtual currency on the app. When you get right down to it, Betify is beyond gambling, more essential. It's the thrill of being challenged, and having something at stake, removed from the very real risk of losing. It's a way of life, imbued with that sense of urgency and purpose that comes from putting yourself out there and being pushed beyond your comfort zone."
Huber is no stranger to those situations. The youngest strategy engineer in Formula 1 at the time, Huber left what he calls "a dream job" to found Betify. "It was definitely not the safe move. I easily could have stayed put. And I would have enjoyed myself, too, and grown professionally. But I knew I was on to something and knew that I wouldn't be able to forgive myself for letting it slip."
Huber packed up shop, moved to London, and, within eight months, had brought together a diverse team of experts and acquired $250K in fundraising from the UK's Jenson Partners investment firm.
Huber points to the recent rise in social gaming, which involves informal bets for virtual currency, as one market Betify can leverage. By 2015, social gaming is projected to represent a $14.6 billion industry. Social gambling, where real and "virtual" currency gambling come together, is already a $1.7 billion industry with 170 million active participants and a 160% growth in participation since 2010, expected to rise to as high as $7 billion by 2015, according to a Slideshare report.
"Betify is unique in that we're not interested in taking over an existing market, but rather, have our eyes set on creating our own space, our own culture of interaction," says Huber. "But if you look at the state of the global marketplace, there is a lot of groundwork already in place for us.
"Mobile, in general, is obviously booming, expanding its penetration and scope at a consistently high rate. And gaming, like most things else, is becoming incorporated into that paradigm, from the popularity of mobile game apps to the implementation of gamification methodologies in digital marketing. What you see, though, is that in order to be effective, gamification has to be built into the core of the product, not something that just sits on top. And at Betify, we've based our entire app around those principles. It's the next step of gamification, we call it Betification"
Mobile, too, says Huber, is integrated into the Betify culture. "We've learned that the way people want to use challenges is on the go. Mobile is great for transforming that into action."
Action, explains Huber, is part of how Betify will monetize its business model. The platform's "rewards" system is tied to real world products, supplied by Betify's corporate sponsors. They currently feature speaker systems, headphones and other tech items.
"For them, Betify will be about cultivating loyalty, engaging and acquiring new users, and giving users an incentive to get involved with them. Betify will also offer a medium to connect with some of their best customers, customers willing to literally do crazy things to access products." Betify will also sell content management system and detailed analytics reports to companies who wish to closely monitor and measure their campaign, which is another revenue stream.
Betify was field tested at sponsored events, such as the Wakeboard Cable National Championship in the UK, and has used student ambassadors in promotional campaigns it plans to replicate in the future.
"Ambassadors and events are an important part of what we do, because Betify is about cultivating a lifestyle. It's almost like Facebook meets Red Bull, if you want to think of it that way, in that we're going to start with this digital platform for real social connections and actions and build an entire culture around it."
The first social media app to revolve wholly around challenges, Betify is poised to build a new worldwide culture of pushing limits. The app can be downloaded on iPhones at http://www.getbetify.com.