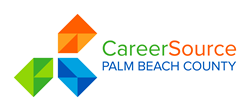 Consider seasonal employment to earn extra income, fill-in a gap in employment while transitioning to a new career or to begin a new career path.
West Palm Beach, Fla. (PRWEB) October 03, 2014
Fall is officially underway and employers are hiring staff to prepare for seasonal increases in business. There are more than 20,000 on-line advertised job openings in Palm Beach County including positions in retail, healthcare and hospitality.
Consider seasonal employment to earn extra income, fill-in a gap in employment while transitioning to a new career or to begin a new career path. CareerSource Palm Beach County offers the following tips:
Tip # 1 - Start NOW! Looking for a job requires serious effort and daily persistence. Many businesses hire in advance of the rush to train a team to cover all shifts and schedules.
Tip # 2 - Register your search and find help! At home, school or the library, access a computer to visit http://www.employflorida.com. Register yourself at this site and enter all the information required to build a resume. If you need assistance, visit the CareerSource Palm Beach County website at http://www.careersourcepbc.com to view the schedule of free live workshops at the Career Center, or attend online workshops at your convenience.
Tip# 3- Explore New Options! Have an open mind about temporary and part-time seasonal positions that could lead to year-round or full-time opportunities. An example of companies that hire in the fall include retail stores, restaurants, caterers, hotels and clubs, personal care salons, clinics and hospitals, gift wrapping and package delivery businesses.
Tip # 4 – Research Employers! – If you want to work for a specific employer or you are offered an interview, find out as much as possible about the business. Visit their website, search the online newspaper for articles about the company and check the research desk at the library for local business publications. Your knowledge of the company, or products and your genuine interest will make a positive impression.
Tip # 5 - Look Sharp! – When searching for work, show that you know how to adjust your appearance to reflect a business setting. Your appearance is very important if the job you are seeking requires you to represent the image of the business to customers and clients.
CareerSource Palm Beach County maintains a business casual dress code for visitors with the express purpose of preparing career seekers for the job interview and because employers are often holding hiring events (by appointment) at its locations.
Tip #6 - Prepare! – Professional actors rehearse and superstar athletes train. You will appear confident and relaxed if you spend time preparing your responses to interview questions. Look online for typical questions and ask a friend or family member to be the interviewer. Practice answering the questions out loud, while looking in a mirror. Take time to get comfortable with your answers without looking at notes. If possible, video your "interview" and critique yourself. Practice until you are comfortable, and if you need help, visit CareerSource Palm Beach County's website to view a schedule of free interviewing workshops or attend a workshop online.
Tip #7 - Hired? Now is the time to shine! – You got the job! Keep up the good work by arriving at your work station early, pay close attention to instructions and remain positive. When you work hard and maintain a positive attitude throughout the stressful holiday season, you might be hired on full-time. With the right attitude and hard work, your seasonal job may launch your new career in the New Year.
About CareerSource Palm Beach County:
CareerSource Palm Beach County provides a comprehensive package of services to help businesses compete in today's challenging marketplace. CareerSource absorbs the cost of most of these services including recruitment, assessments and referrals of qualified job candidates; space and staff assistance for screening/interviewing candidates; and grants for training new or existing employees.
On average, about 11,000 visitors each month receive help from the specialized services at two Career Centers and online. The centers offer classes and facilities for job search, career development and consulting; and grants for job skills training – all at no cost for career seekers. Live and online workshops and employers who are interviewing are posted on the CareerSource Palm Beach County website at http://www.careersourcepbc.com.