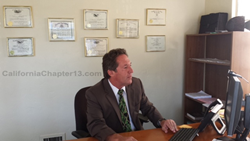 "If people knew how quickly their credit scores can recover following a bankruptcy then many more people would be lining up to file."
San Diego, CA (PRWEB) October 28, 2014
For over 25 years, San Diego bankruptcy attorney Craig Trenton has taken up the cause of struggling American homeowners. Craig Trenton specializes in Chapter 7 Bankruptcy in San Diego and has released a new blog highlighting why a consumer may want to file a Chapter 7 Bankruptcy. Where Chapter 13 Bankruptcy puts foreclosure proceedings "on pause" for the purpose of reorganizing and reordering payments, chapter 7 bankruptcy wipes the slate clean of various other debts, allowing the homeowner to focus solely on their home. Craig Trenton takes a multi-faceted approach to educating homeowners, most notably via his popular resource portal for current bankruptcy info, CaliforniaChapter13.com. This web page, in conjunction with the utilization of such social media as Facebook and twitter, facilitates easy and immediate access to his expertise which helps to reduce some of the stress associated with such legal proceedings; a principle goal of his offices, according to Trenton.
Craig Trenton's commitment to providing clear, comprehensive communication with homeowners concerning the ins and outs of bankruptcy has earned him popularity and accolades from clients and colleagues alike. Craig recently received favorable mention from homeowner advocacy group "Banking Bad" for his timely intervention in the foreclosure of a senior citizen's home. By filing Chapter 13 Bankruptcy, Trenton effectively halted foreclosure proceedings, affording the woman time enough to work with her bank on completing a successful loan modification, lowering her payments into manageable doses. Joining in the fight to protect homeowners is homeowner's rights advocate Steve Triebernig, founder of the website and Facebook page "Keep Bank of America Honest".
With many California residents mired in credit card debt and back taxes, and some even being threatened with foreclosure, Bankruptcy attorney Craig Trenton offers Chapter 7 Bankruptcy as a viable option for San Diego residents. Pointing to concerns from homeowners as to the repercussions of filing for bankruptcy as a cause of trepidation, Craig asserts that "if people knew how quickly their credit scores can recover following a bankruptcy then many more people would be lining up to file."
About Craig Trenton:
San Diego Bankruptcy Lawyer, Craig Trenton offers free bankruptcy consultations. Mr. Trenton has been in solo practice for over twenty years, during this time Craig has opened 4 other offices throughout the West including Texas, Oklahoma, Utah, and Arizona which specialized solely in Bankruptcy matters. Craig Trenton is a native San Diegan. He grew up in the beach areas of San Diego and graduated from University of California San Diego and attended California Western School of Law before becoming a San Diego bankruptcy lawyer.