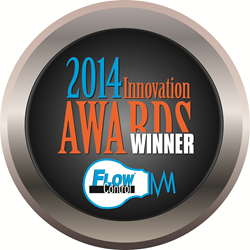 We congratulate this year's Innovation Awards winners for their technological contributions to industrial fluid handling systems, resulting in increased process efficiency, cost savings, energy savings, and more."
Birmingham, Ala. (PRWEB) October 06, 2014
Flow Control magazine is pleased to introduce its 2014 Flow Control Innovation Awards winners. The awards program is an annual contest designed to highlight compelling advances in fluid handling technology. Final nominees were announced in the June edition of Flow Control magazine and presented for reader voting through Aug. 1. Winners were officially announced in the September issue of Flow Control, followed by a special case-study section in the October issue, showcasing how each technology is being employed to the benefit of real-world applications.
"We thank all who participated in this year's awards program, from the manufacturers who submitted nominations for products with new and advanced technology to our readers who voted for them," said Matt Migliore, executive director of content for Flow Control magazine and FlowControlNetwork.com. "We congratulate this year's Innovation Awards winners for their technological contributions to industrial fluid handling systems, resulting in increased process efficiency, cost savings, energy savings, and more."
The 2014 Flow Control Innovation Awards winners are:

Contour™ FCH Flow Conditioner Housing by Canalta Flow Measurement
Micropilot FMR5X Radar Level Measurement Instruments by Endress+Hauser
PIOX S Mass Flow and Concentration Measuring System by FLEXIM
ELITE CMFS Coriolis Flow Sensor Platform by Emerson Process Management – Micro Motion
Model FT2A Thermal Mass Flowmeter by Fox Thermal Instruments
454FTB-WGF Thermal Mass Flowmeter by Kurz Instruments, Inc.
NEXUS-LP/LPX Integrated Pilot Valve & Limit Switch System by SVF Flow Controls, Inc.
AFS-GR Series Accelabar Flowmeter by Veris
Pro-Flo SHIFT Air-Operated Double-Diaphragm Pump by Wilden Pump & Engineering
To read more about the 2014 winners, visit http://www.flowcontrolnetwork.com.
Any product used to support an industrial fluid handling process that was released on the open market after Jan. 1, 2013 was eligible to be nominated for a 2014 Flow Control Innovation Award. Only one entry per company was allowed. However, companies with multiple divisions were allowed to enter a product from each division. Flow Control will be announcing its 2015 Innovations Awards call for nominations prior to Jan. 1, 2015.
About Flow Control Magazine
Flow Control magazine is the leading source for fluid handling systems design, operation and maintenance. It focuses exclusively on technologies for effectively moving, measuring, and containing liquids, gases, and slurries. It aims to serve any industry where fluid handling is a requirement.
Flow Control magazine, Grand View Media Group, 200 Croft St., Suite 1, Birmingham, AL 35242, FlowControl(at)GrandViewMedia(dot)com, http://www.FlowControlNetwork.com.