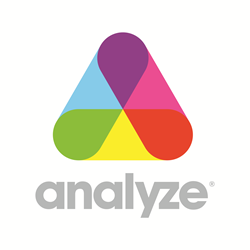 "Direct mail has a reputation for sophisticated targeting, however it focusses on only three attributes—age, income, and homeowner status," Dr. Bob Nolker, VP Research & Development
Fairfax, VA (PRWEB) October 07, 2014
Analyze Corporation launched Donor Impact, a disruptive data analytics service targeted to the non-profit fundraising community. The platform "mashes up" an organization's donor list with open source consumer data to identify individuals most likely to donate to their organizations. Donor Impact evaluates current donors based on more than 300 consumer variables, and using proprietary predictive and targeting algorithms, provides a prospective donor list that most connects with an organization's mission and that has the highest propensity to give.
Beta trial results exceeded expectations. Young Playwright's Theatre, the non profit awarded the 2014 Award for Excellence in Nonprofit Management commented, "Through Donor Impact, YPT was able to see overall demographic information about our donors in minutes -- information that would have taken hours to find through online searching, -- as well as get insight into preferences and trends and metrics we hadn't even thought of. It made compiling our end of year report on giving so much faster and allowed us to include more detail."
Ed Lorenzini, Founder and CEO, notes that while multiple firms offer donor screening or data analytics services, the offerings tend to focus solely on wealth, prior giving history, or require expensive professional service contracts and integration. "We take a unique approach to the problem of increasing donations. By simply uploading a donor spreadsheet to our website, we will return a list of thousands of prospective donors from our database of 200 million households. Our service is affordable for even the smallest of organizations, and it was designed with the "technophobe" in mind. No IT support, coding, or integration is required."
It is critical for fundraisers to understand how their donor lists are compiled. "Direct mail has a reputation for sophisticated targeting, however it focusses on only three attributes—age, income, and homeowner status", according to VP Research and Development, Dr. Bob Nolker. "In contrast, Analyze considers more than 300 demographic, financial, and consumer preference variables. We hone in on prospects with an affinity for an organization's cause, and provide information to help decide who to contact and the optimal donation size to request."
Donor List cooperatives have been a mainstay of the professional fundraiser, but it's an outmoded, inefficient approach. While response rates using cooperatives will be higher than a mass mailing to the general public, it is still much less efficient than targeting prospects aligned to an individual organization's donor base unique demographics. "Analyze's customers today are showing a minimum of 30% increases in response rates versus traditional methods" says Lorenzini, "and as our customers begin to incorporate the insights provided by the platform into their outreach and fundraising processes, we believe they'll begin to see ten times that improvement."
For more detailed information about Donor Impact, please visit: http://www.analyzeimpact.org/
Analyze Corporation is a data analytics firm leader specializing in behavioral based targeting and provides behavioral analytics as a service for the retail, maritime, and non-profit industries. Analyze is headquartered in Fairfax, VA, with a technology office in Boston, MA. For more about Analyze, visit us at http://www.analyzecorp.com and follow us on Twitter @Analyze.