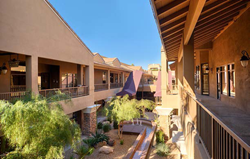 Pop-up retail has evolved from holiday-only, temporary space driven by vacancy into a multi-billion dollar retail strategy.
Phoenix, Arizona (PRWEB) October 06, 2014
Joining one of the hottest trends in retail, 7 Thousand Shea is holding an open casting call for fledgling start-ups, e-tailers and local artisans who want to test their products and marketing prowess in one of several available suites at the Scottsdale shopping center. 7000Pops™ is designed to match local or online brands with temporary retail space at 7 Thousand Shea.
"Pop-up retail has evolved from holiday-only, temporary space driven by vacancy into a multi-billion dollar retail strategy," said Zaya Younan, Chairman and CEO of Younan Properties. .
Los Angeles was one of the first U.S. cities to test pop-up retail or "flash" retailing to test whether consumers would purchase limited edition products from niche retailers. The concept gained traction and before long, companies were using pop-up retail locations to host sample sales, launch a new product or kick off a new advertising campaign. Today's flash retailing extends well beyond the seasonal Halloween or Christmas shop and has grown into an $8 billion industry according to Specialty Retail Report.
7 Thousand Shea was acquired by Younan Properties in April of 2013 and has undergone a million dollar renovation including rebranding, parking lot reconfiguration, parking garage improvements, custom painting and landscaping, new lighting and the construction of new monument signage and improved signage across the campus. The latest project in progress is the renovation of the Center's 10,000 square feet of office space.
"Since acquiring 7 Thousand Shea last year, our team has worked to create an environment that appeals to our existing tenants and creates a welcoming environment for new tenants. We believe that by supporting new brands and local artisans and entrepreneurs to take advantage of several existing suites on a temporary basis, they will benefit from increased visibility and a chance to build brand awareness quickly. Our existing retail tenants should benefit from increased customer traffic. This is a win-win-win for existing tenants, up and coming businesses and the Scottsdale community," Younan pointed out.
Pop-up retail space currently is available in existing suite configurations from 849 square feet to 2,000 square feet. Interested businesses are invited to contact Denise Davis, Vice President of Communications and Marketing at Younan Properties for an application. All applicants will be reviewed on several criteria including product offering, space requirements and the ability to maintain their own web-based POS system. Pop-up products should complement but not compete with the existing retail tenant mix at 7 Thousand Shea. Recent pop-up successes have included new technology products, handcrafted fashion and accessories, fine art and crafts, and artisanal food items, among others.
Situated near the intersection of major thoroughfares East Shea Boulevard and North Scottsdale Road,
7 Thousand Shea is strategically positioned within Scottsdale's renowned retail trade area, minutes north of Downtown Phoenix. The 137,522 square foot shopping center includes five, two-story buildings and one, single-story building as well as a two-story structured parking garage. Current retail tenants include Tuesday Morning, Signature Salon Studio, Arizona Bread Company, and Haweli Indian Grill & Bar. Laugh Factory, the #1 comedy club in the country, according to USA Today, will be opening a new 10,000 square foot venue at 7 Thousand Shea later this fall.
Younan Properties, Inc., is a privately held real estate investment and management company, specializing in acquiring and managing Class A office properties and selected retail centers in strong growth markets throughout the United States including Dallas, Houston, Chicago, Los Angeles and Phoenix. Known for its detailed, hands-on approach to improving operational efficiencies while maintaining top building standards for tenants, Younan is a full-service real estate investment company with in-house expertise and resources in leasing, asset and property management, marketing, acquisitions, redevelopment, facility engineering and financing. For more information, visit http://www.younanproperties.com.