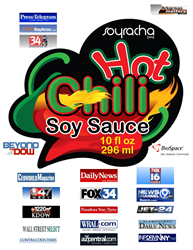 Soyracha Hot Chili Soy Sauce. For young, hungry guys.
Los Angeles, CA (PRWEB) October 06, 2014
Comic, writer, filmmaker, photographer Dailey Pike has cooked up Soyracha (tm), the world's first "hot chili soy sauce," and is on a mission to get it into a fast food restaurant near you.
"For many years, I've been dousing my food with a homemade hot chili soy sauce. I even add it to beer. Seriously, I absolutely love the flavor. I call it my 'Soyracha' sauce. On September 6, 2014 when I filed to register my fanciful 'SOYRACHA' word mark with the USPTO, I found there was no other 'hot chili soy sauce'. I realized I had created not only a unique, flavorful sauce, but also a new brand, Soyracha Hot Chili Soy Sauce. This sauce could absolutely be a signature sauce for a fast food chain."
The next step for Pike was to establish the Soyracha brand, create attached goodwill, brand awareness and demand. It took less than a month from his September 6th USPTO filing. Being a writer, graphic designer and video editor, Pike began cranking out humorous online print ads and video commercials.
He created Facebook, Wordpress, a Soyracha TV Channel, plus SmugMug & Pinterest sites targeting the young, hungry guys' spirit in the 18-35 demo. He came up with a series of product labels for the brand that exuded fun, humor and flavor.
Pike says, "In less than thirty days, the Facebook page has become very popular with people clamoring for samples, asking what stores it's in. I even had a food truck vendor looking to buy it."
However, despite the potential as a brand for a standalone sauce like Tabasco, at this point, Pike wants his sauce in a fast food chain. "Who knows," Pike says "maybe Andrew Puzder or John Koncki will give me a call."
About Dailey Pike - In 1979, Dailey Pike began performing at The Comedy Store and was a professional, touring, stand up comic during the 80s. In the 90s, Pike transitioned to sitcom/talk show audience warm up and was Hollywood's go-to guy for that decade, working on Cheers, Ellen, Drew, Arsenio and dozens more. In 2000, he became Roseanne's on-air sidekick on her morning talk show, worked as a social media creative consultant for Robert Atallah, owner of Cedarlane Natural Foods, and following that, began his career as a jazz photographer and award winning jazzumentarian with three feature length films.